Whether you're on TikTok or not I'm sure you've scrolled down enough social media posts to know that the trends on this dynamic video-sharing app seem to move at a breakneck speed. One week we'll be drowning in posts of people telling us what they'd wear as a harry potter character, channeling their inner dark academia stan and the next will have us staring awed at the way people are bringing their Chinese Street fashion A-game.
Yes… yes, I said it and I'm sure that slow-motion videos of glamorous people walking down the street looking like runway models are running through your head.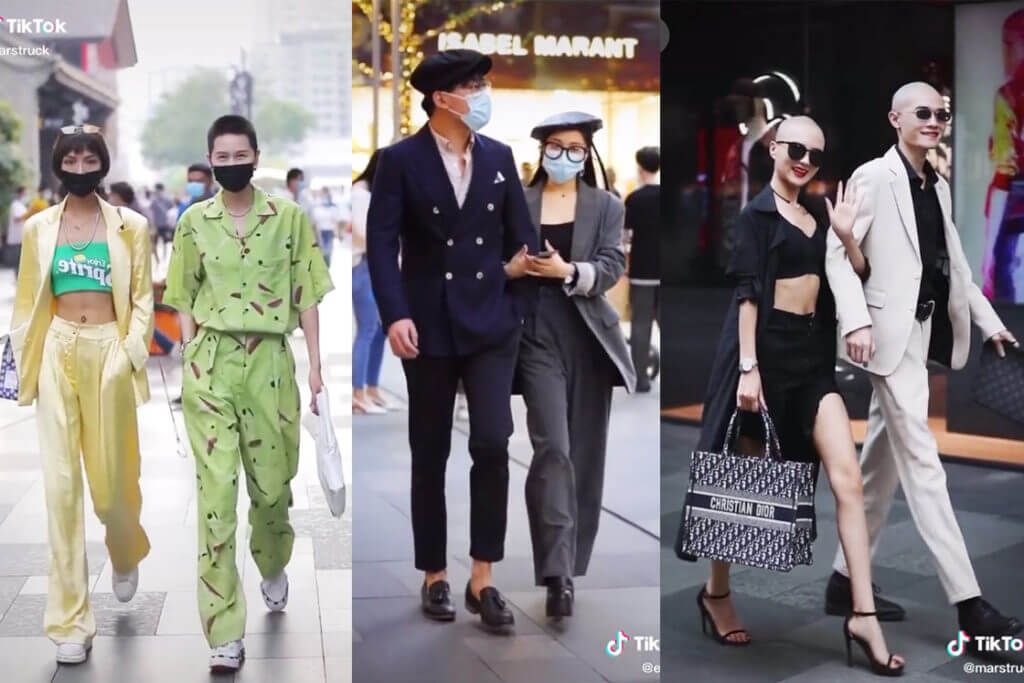 As videos documenting the street style took over our social media feeds, I couldn't help but wonder if these were just everyday humans dripping with such finesse strutting down the street. Which ultimately led me to my all-important question, How do I achieve this level of fly?
Background Check
As a wise man once said, we must look to the past to learn the future. So let's rewind and see how this trend took over our minds and 'for you' pages alike!
The trend brings us a variety of OOTD's ranging from impeccably tailored all-black ensembles to wackier streetwear looks. Brands like Balenciaga, Misbhv, and Vetements became essentials for flashier looks while more small brands focusing on a similar aesthetic popped up like mushrooms!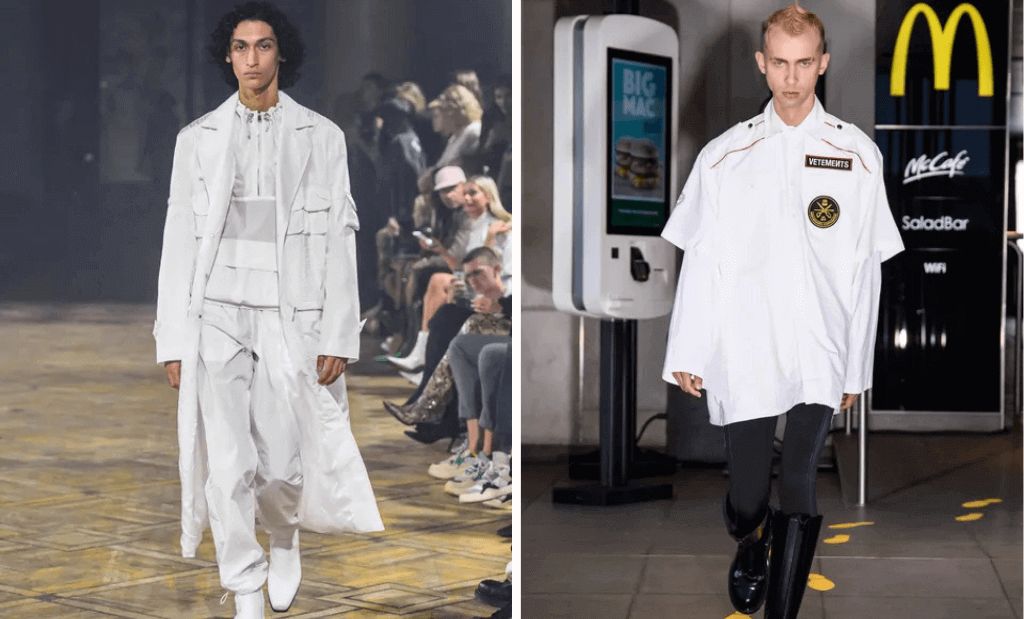 Rundown of the Aesthetics
Chinese street fashion doesn't adhere to just one style and that is what magnifies its appeal to the masses. It takes cues from Japanese Lolita, punk, and even New York street style and this versatility is what makes it attractive to so many people!
So if a pastel goth lolita-inspired look is what you wanna rock then that's cool and if a head-to-toe Givenchy or Gucci designer outfit, styled with sunglasses and blazers is more your style then that's cool too! Just own your vibe!
How you like that! The iconic Blackpink has blossomed into not just music superstars but also fashion icons and this trend gave them such a perfect tribute. The band gave us the anthem that graces every video for this viral trend and I must say that I like it very very much. Check out the 'How you like that' MV for fashion inspiration or just some visual candy! I mean that's totally your call!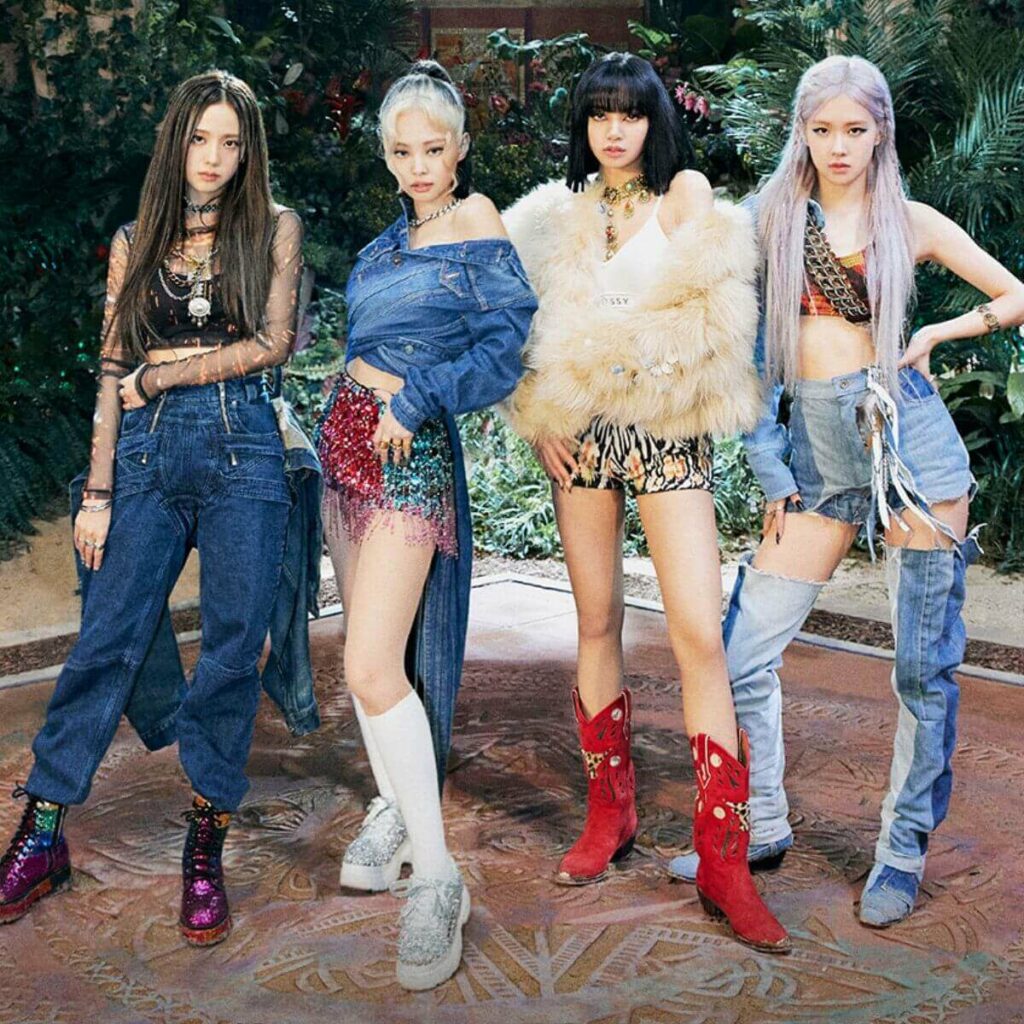 Let's get to drippin' with Finesse
Pastel Goth/ Lolita Inspired
Let me just make this super simple, imagine taking a goth outfit and deciding that the color scheme needs to be just a little or well lot more pastel. So a surprising amount of cute showered with horror elements, a little creepy… a little cute! The perfect sweet spot.
Pastel goth is rooted in Japanese Harajuku street style and lolita fashion. Chinese street fashion brings it back to the forefront, 10 years after it hit its peak popularity. Take your pick with the pastel saturation!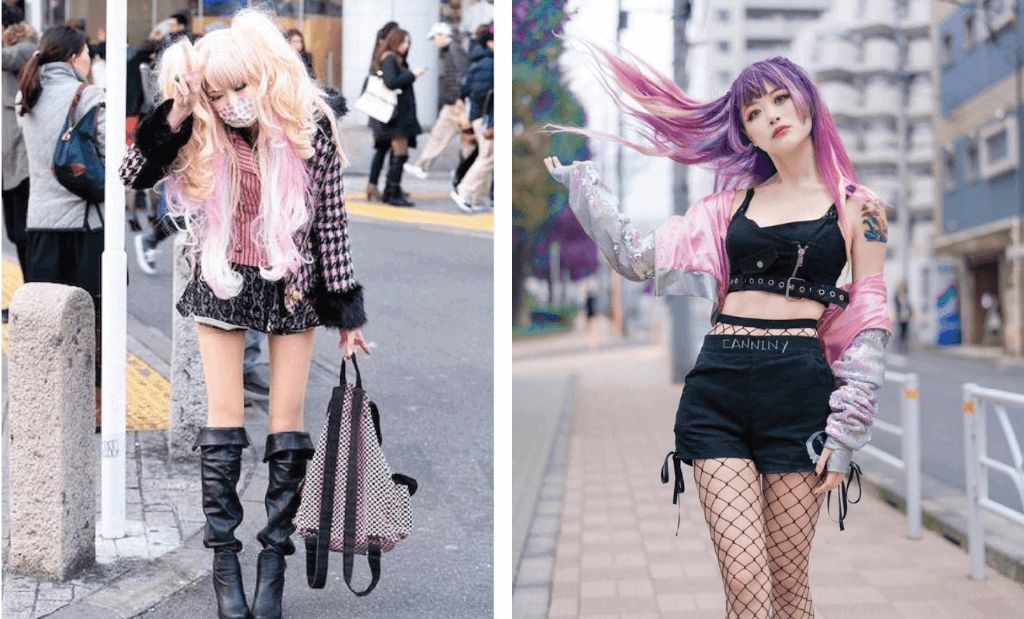 Hip-Hop Inspired
Another classic look that infiltrated the Chinese street style is hip-hop fashion. It includes oversized clothing accessorized with bucket hats and chains and overalls. Fan favorites include denim dungarees and sportswear posing as casual wear with sneakers. It is the epitome of mixing high-end designer clothing with casual pieces. And if you didn't know… the baggy pants with a tight-fitted top trend. Yeah, that came from the 90s hip-hop and R&B.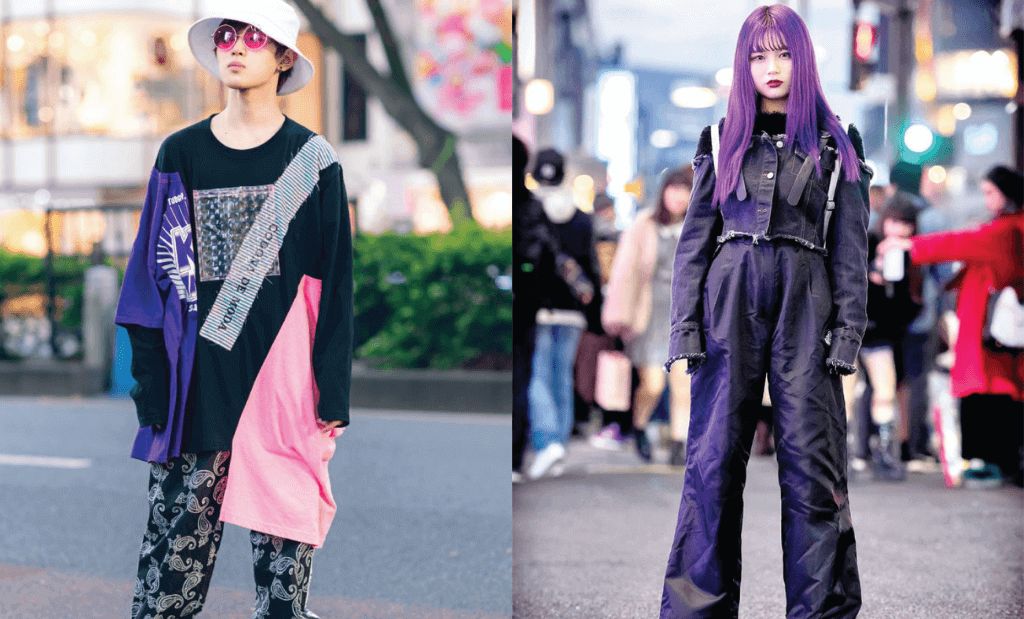 E-Boy/ E-Girl Inspired
Eccentric colored hair, anime-inspired and exaggerated blush are just a few of the tell-tale signs of this trend. Looks include layered skirts, sweaters and jackets along with baggy pants and chunky boots. Often outfit inspirations stem from anime and hence offer a variety in school girl or skater skirts paired with thigh-high socks and Mary Janes. Main aim? Be edgy and alternative but in a cutesy way!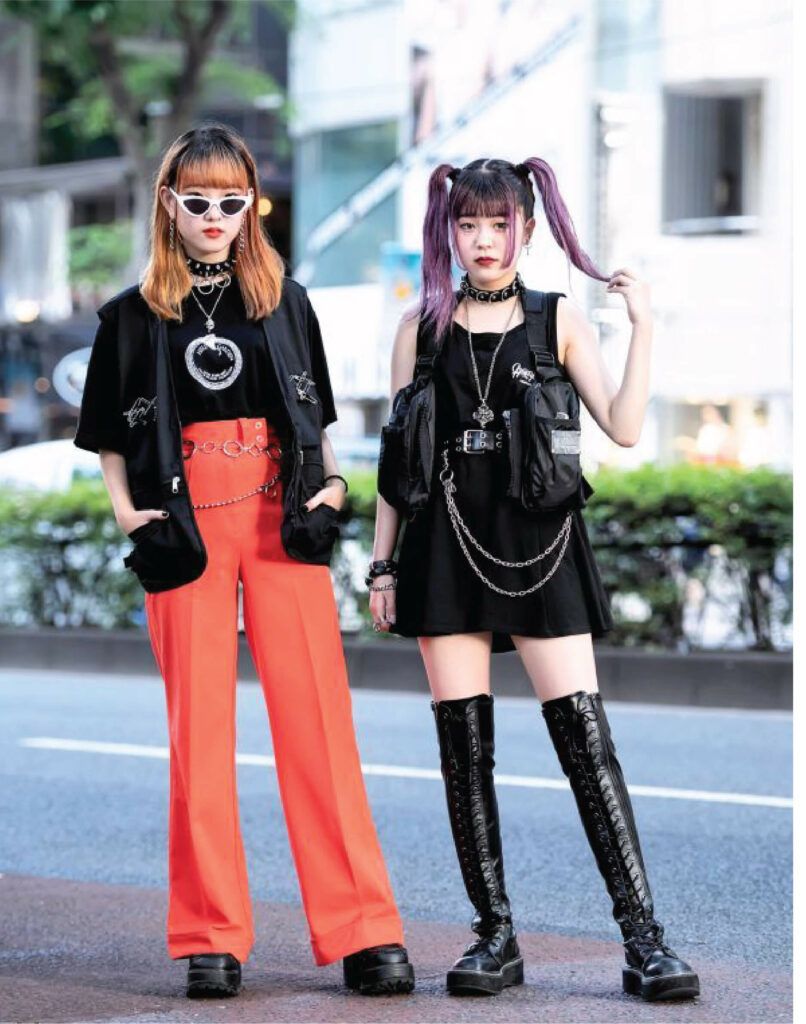 Traditional Inspired
This is truly the part of Chinese street fashion that stole my heart. I'm in love.
In 2019 wearing a traditional Hanfu came back into fashion and the younger generation embraced it. These looks get creative with traditional Chinese clothing and silhouettes to create updated ensembles designed to stun us all! And if you do decide to get inspired and wear something like it then remember guys, show appreciation but no appropriation!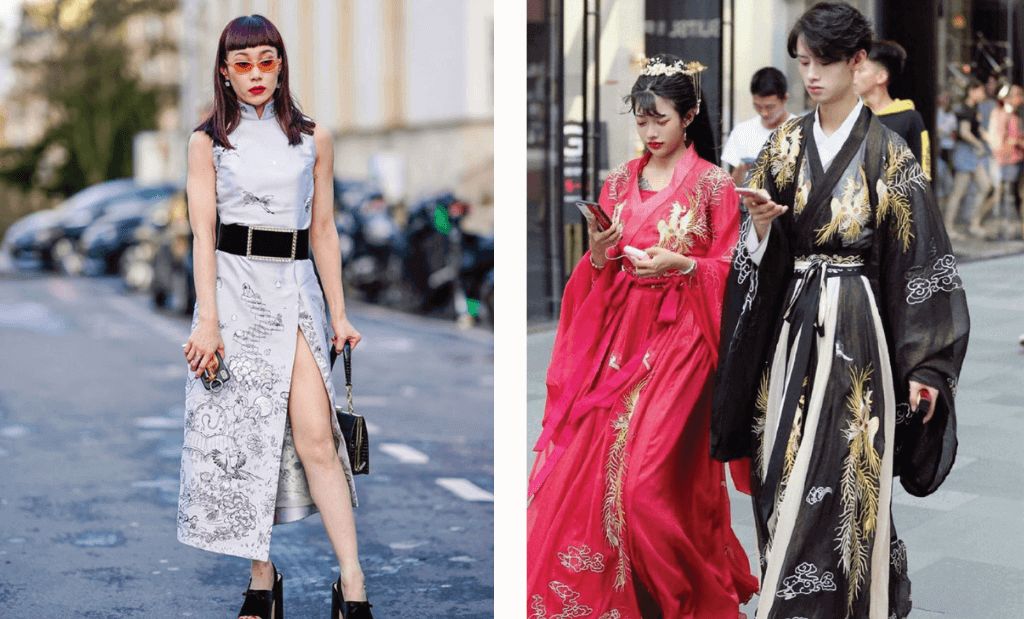 Everything Black
All black! All class!
I've seen many all-black outfits with fierce accessories that give off the badass vibe! These dark monochrome outfits are quite popular on the streets, the trick is to find black pieces and play around with textures to add dimension to your outfit. The easiest way to achieve this look is to pair slouchy pants and a full sleeve top, now add some stunning jewelry and voila!
Include chains, studs, and maybe futuristic sunglasses! Now channel your inner action movie alter ego and head to the streets!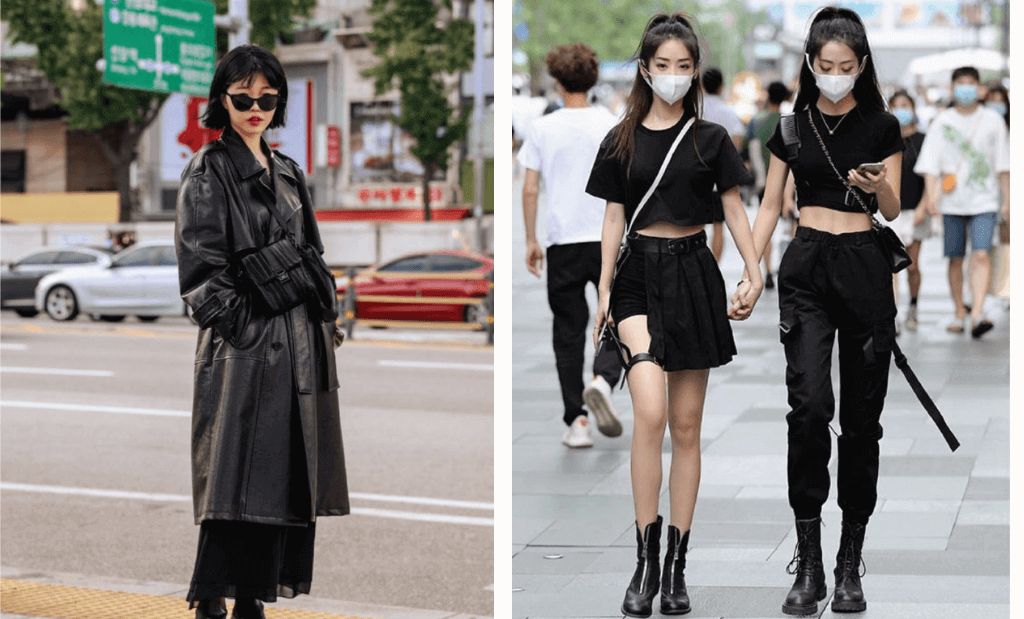 Casual Chic
With lockdown after lockdown after lockdown, I'm really not one to dispute a trend deeming sweatpants as the new chic! Would any of us actually?
And if you share my love for this comfy article of clothing then don't hesitate and make this look your own! Try pairing an oversized blazer or shirt and a designer crossbody bag to dress it up! Add chunky sneakers to finish and head on out!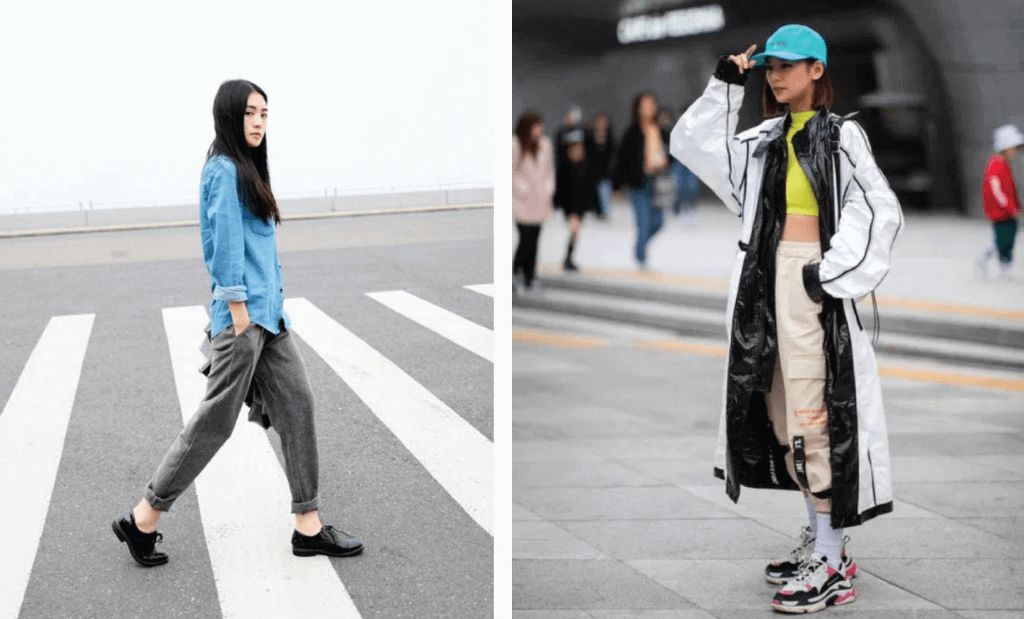 Easy A
If you like to keep it easy breezy and chic. Try out your perfect outfit with wide-legged pants and top it off with a graphic tee or a solid form-fitting tank. Add a beanie for the edge and a tote bag for some snazzy contrast or just go the classic route with a shoulder bag. Rock on people, Rock on!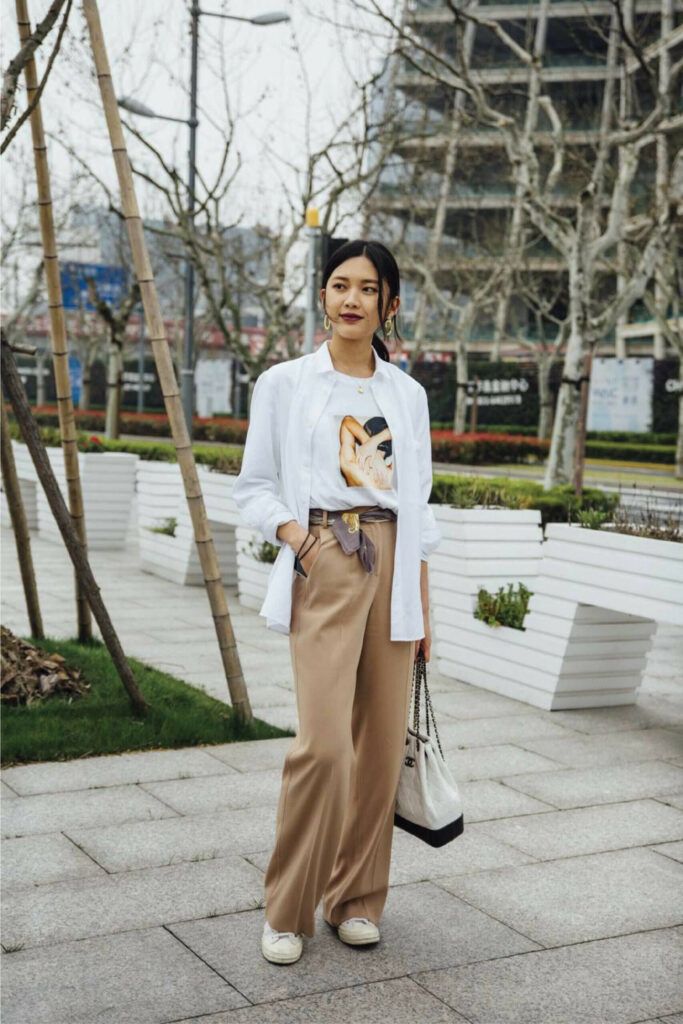 Final Words From An Admirer
Chinese street fashion does not shy away from being different and creating something unique by combining different styles. It caters to a wider audience because it doesn't conform to just one definition, it is open to interpretation.
So if you love expressing yourself through what you wear and if you dress up to impress not people but yourself then this trend is the biggest boon. Here, you get to be unabashedly you. There are a lot of choices, something for everyone to love so what could be the perfect potion? Well, it's quite simple, the elements themselves are not the only thing that makes your look special. It is the energy and essence that exudes from their personality.
And there you have it, the cheat trick is to own your look! Walk like you're the main character to the rhythm of your own drum.
If you like reading this then let me know which look struck your fancy in the comments below!
---