As you consider whether fashion designing in India is the right career path for you ? or you need some answers to the big questions: What do you really need to know? What tools do you need to have?
We got you covered. Fashion Designing is undoubtedly an exceptional career choice as it withholds a bright future due to its gaining popularity and steady money. The best part about fashion design is that it is not restricted to only clothes, it also comprises of accessories, jewellery, shoes and many more.
So these all said, how exactly can you land a career in Fashion Designing?
Let's dive right in!
Fashion is like eating, you shouldn't stick to the same menu. —Kenzo Takada
WHY FASHION DESIGNER?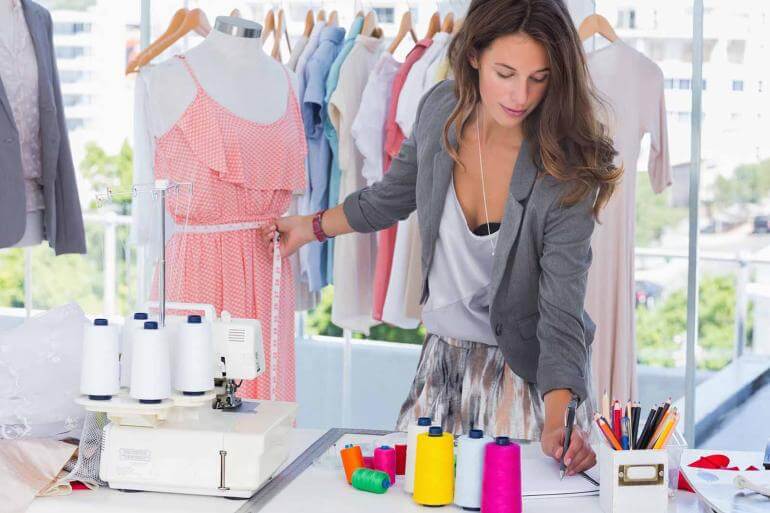 The main reason and biggest boon in Fashion Industry is its always dynamic and never dull. Since the known past, various fields have emerged and sunk but this fashion is always changing and as time flies it keeps on blooming and never fades.
In an Ever Fresh Industry, there are always huge opportunities to learn and practice. It is not just the clothing that's under fashion! The accessories, make up, shoes, hats, bags, looks, color, design, pattern, background etc., etc., etc. There's never an actual ending line.
Let me put another though! What if there are no opportunities left with your Fashion Lead. Is it an ALAS…!!?? Nope there is a YAYYY…!! You can be your own boss..! Always passion, hard work and creativity crowns you in Fashion!!
Apart from all the above listed, the satisfaction gained by this work is unmatched and the pay with this satisfaction makes this career a wonderful path to success.
WHY INDIA?
And now coming to Fashion Designing in India… they are
As a testing media:
As a known fact, India has varied culture and tradition. But the unknown fact is in spite of these differences Indians are always ready in state for a progressive evolution. Fashion makes people to get in trend and thus progressive evolution which makes India an ideal place for testing, revamping and unfolding. The contrast in people's taste also makes India the best place for Fashion study.
As a Fashion Market:
And India being the biggest fashion market, Fashion Designing in India is the best career to opt for currently. Though it is only a growing field, it has a large number of opportunities and had made successful people like
Fashion Designer Trends According to Global Analysis between (2016 – 2021)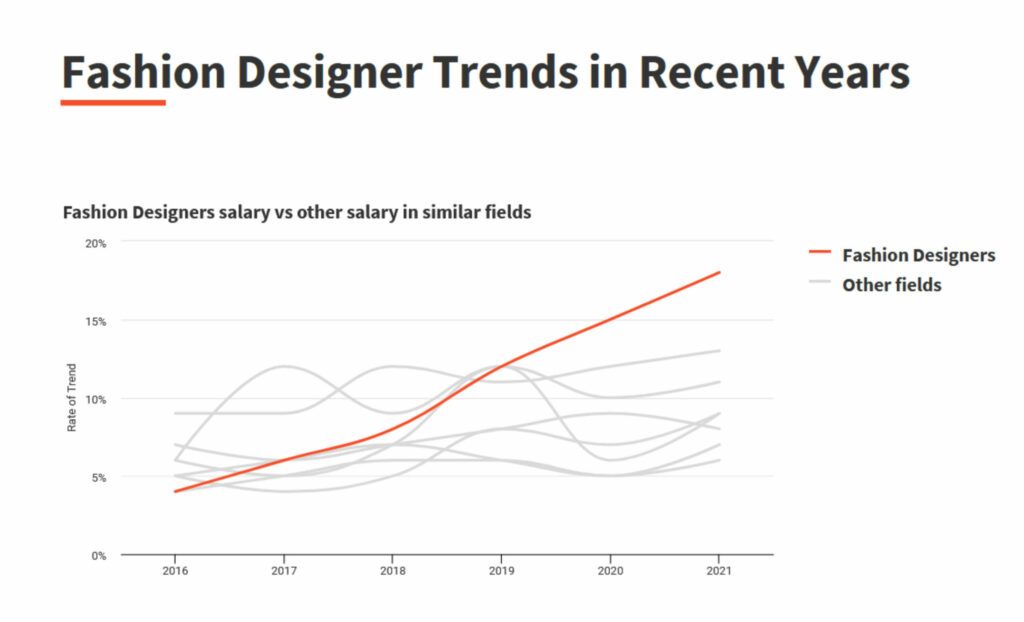 Recent studies have shown that a career in Fashion Designing in India has high roads to success. It has almost become one of the best and Dynamic Professional Courses. India is one of the world's biggest growing Fashion Markets and according to a recent report it has become a $102 billion market.
What does a Fashion Designer do?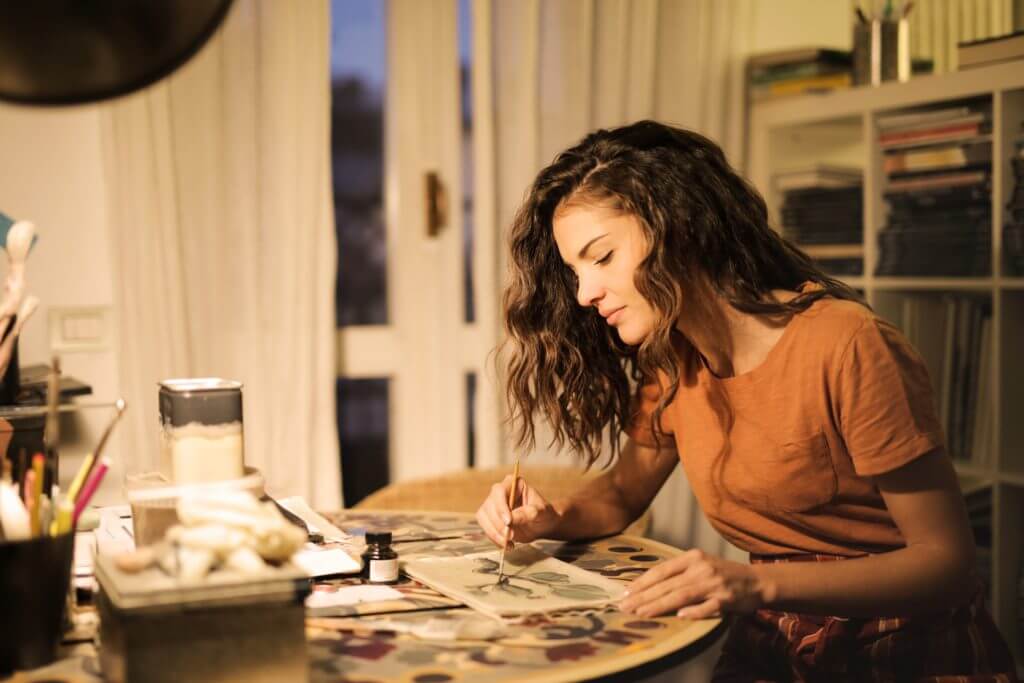 It is a common idea of people that fashion designers are people who design dress for celebrities and famous people. But, it is not what a Fashion Designer does. They make designs for normal wear and for the branded ones too. There are a lot more than just designing dress. Fashion includes Make up, accessories like jewelry, shoes, bags, caps and hats, etc.
Did you know the fact that 80% of the modelling field is purely based on what Fashion Designers does! Check out the Top 10 Models in the world [2022]
To just put a note on designing dress for a particular person the following must be considered:
The skin tone and color of the person
The colors that might suit the customer must be analyzed
The general roles include
Developing patterns both manual and computed
Quality and Quantity management
Finding proper shows and models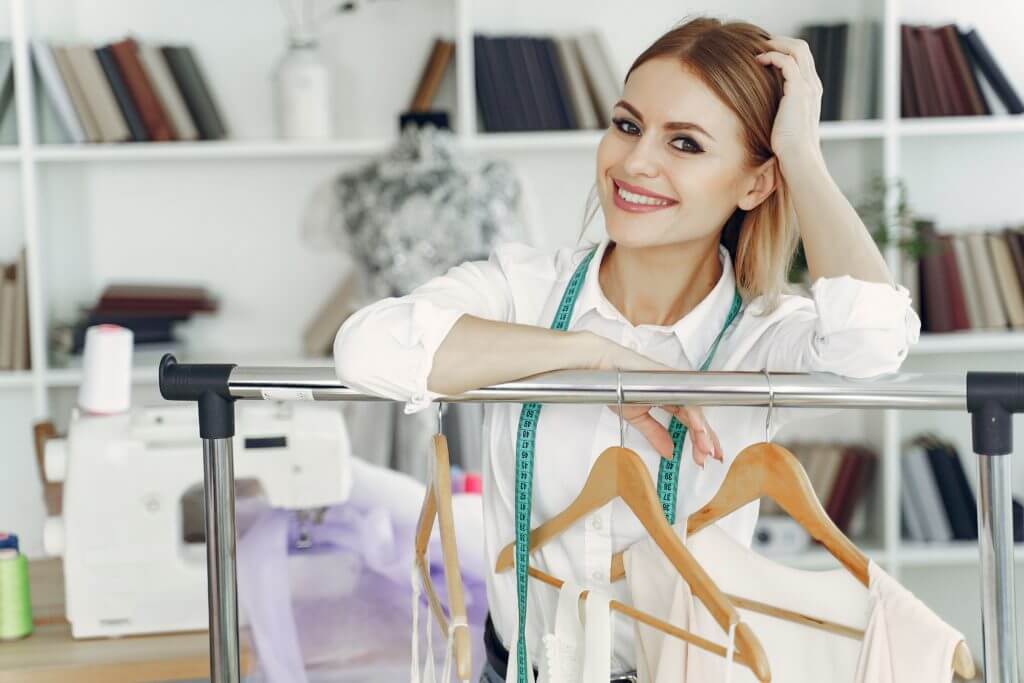 FASHION DESIGNER's design different wearable like maternity wear, street wear, night wear, wedding wear, sportswear, footwear, eyewear, formalwear, underwear, outerwear, etc. They produce ready to wears and make designs for materials.
Some Fashion Designers work on costumes for television shows, dance, movies, etc. Some work by contract basis for series and also have personal clients.
The Actual work of FASHION DESIGNER in India:
The actual work of FASHION DESIGNER is different when compared to other countries. Since India is traditional and conservative with modernized thoughts the ethnicity is major consideration here. Analyzing the current trend and predicting the future is done using research, reports, magazine analysis.
The style, color, fabric, season are also analyzed. The basic design is sketched and created, the design is tried on a dummy, then prototype is created and used for marketing.

The actual work starts after production. Marketing is mainly by shows for which models and garments for each must be selected. Fashion show is under complete control of a FASHION DESIGNER. A Fashion Designer's work is complete only after the garment designed is sold and sets a trend.
Salary of a Fashion Designer in India: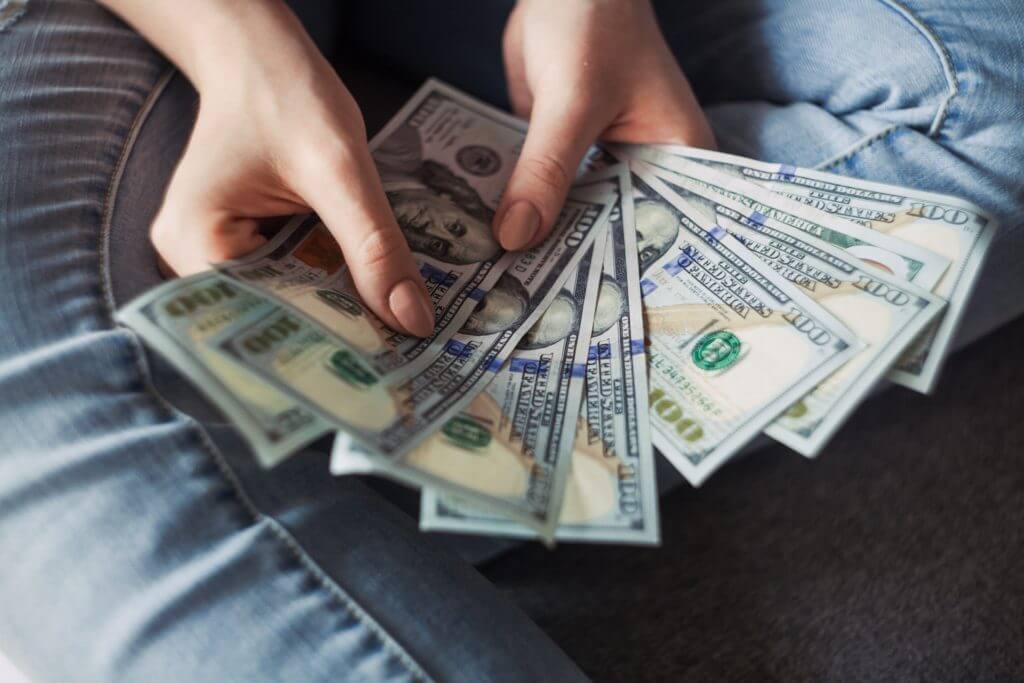 The salary of FASHION DESIGNER differs according the experience, the place they work, their skills, creativity, market, quality and range on trend. The highest salary in India till date is 12.7 lakhs for designing a single piece of dress by the most famous FASHION DESIGNER Sabyasachi Mukherjee.
The normal salary for a beginner designer for a piece of dress may range between 15,000 and 40,000 per design. The pay increases with skill and experience. Fascinating isn't ?
Degree and skills required:
Having known the roles, the requirement to become a fashion designer is a foundation degree and there are best institutions in INDIA like NIFTEM for framing your career. The basic skill set required is
Top colleges in India for Fashion Designing:
SYMBIOSIS INSTITUTE OF DESIGN, PUNE
All the NIFT colleges have NIFT common entrance exam. Courses include Leather Design, Textile design, Fashion Communication, Knitwear Design, Accessory Design, Fashion Styling and Image design, Interior Architecture and Design, Fashion Business Management, Branding and Advertising management, Jewelry Design, Communication Design, Product Design, etc.
Courses for Fashion Designing (India):
Manual Pattern making, Fashion Retail, CAD, Fashion Studio, Garment Design, Fashion Merchandising, Photography.
Professionally, Diploma or master diploma in Fashion Design, Fashion CAD, Garment Design, Pattern making.
Fashion Designer Coordinates with: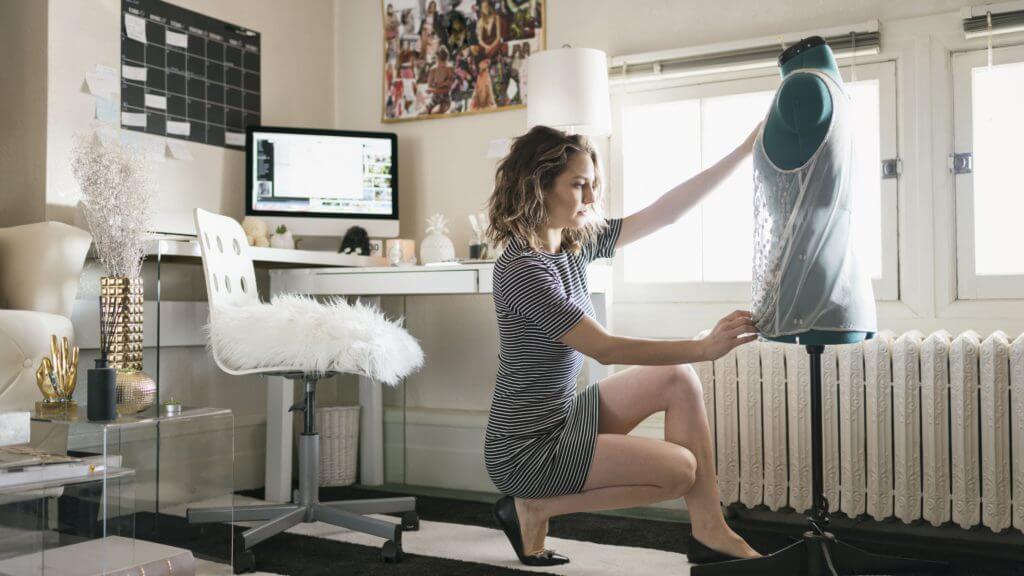 A Fashion Designer works with other set of people like Fashion Consultant, Fashion Illustrator, Fashion Stylist, Fashion Merchandiser, Fashion Coordinator. Moreover, These professions also have the basic degree as Fashion Designing. Further, These are professions as per the area of their expertise like overall show organizing, customer communication, planning for the event, etc. These are recent high paid jobs in Fashion Industry.
Indian Fashion Brands that you wouldn't believe:
There are some Famous Fashion Clothing Brands which you wouldn't believe to be of Indian Origin.
Peter England-Men's wear(Aditya Birla)
Louis Philippe-Men's wear
Pantaloons(Future Group-Aditya Birla)
In addition, Other Fashion Brands in India include
Top Recruiters for FASHION DESIGNER in India: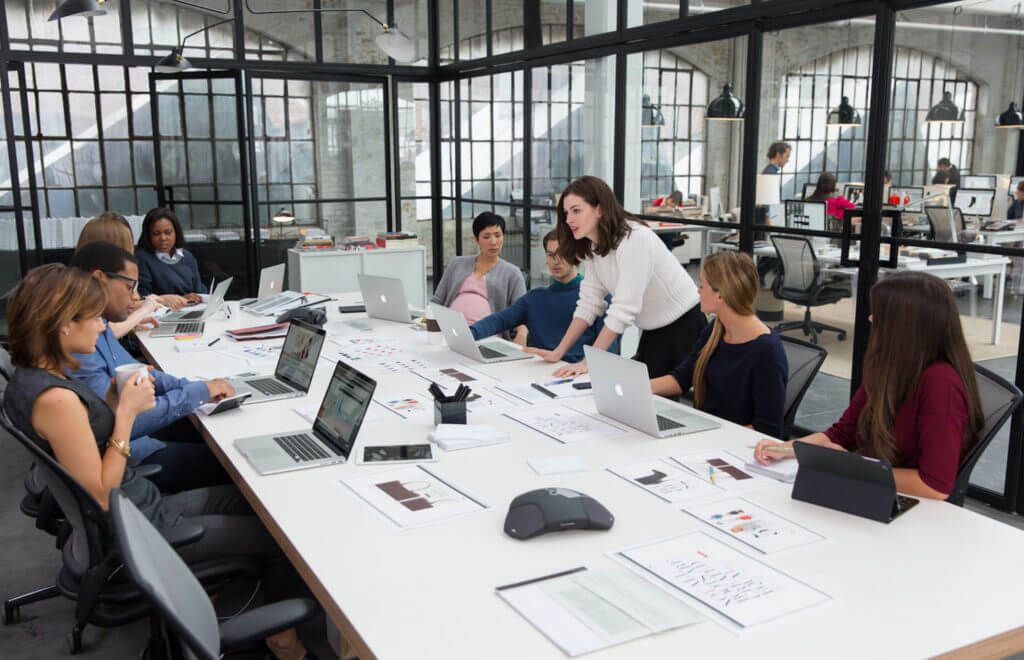 The top recruiters include RAYMOND, ALLEN SOLLY, THE ARVIND STORES, LIFESTYLE, PANTALOONS, SPYKAR, ADIDAS, SWAROVSKI, BATA. Moreover, The job roles in each of these companies are as follows
RAYMOND:
Being the most famous Fashion designing Company, it has a lot of group companies at varied locations and average salary for a fresher is 4lpa. Job Profiles include Fashion Designer, Fashion Illustrator, Fashion Stylist.
ALLEN SOLLY:
It is luxury provider in retail market. The job roles are Fashion consultant, Fashion Coordinator, Fashion Merchandiser.
THE ARVIND STORE:
It's brands are arrow, Cent Purita, Maurizio, Tresca, etc. Its work includes
LIFESTYLE:
Buyer- Apparel, Buyer- Accessory, Assistant Manager- Design are the job roles. Average salary is 3 lpa
PANTALOONS:
It is one among the large scale retailer in India. Its brands include Ajile, Honey, poppers, Trishaa, Urban Eagle, RIG. Job profiles are Fashion Merchant, Fashion Designer, Fashion Merchandiser and Fashion Consultant.
A secret additional opportunity in India:
In India, for Fashion Designers there is an additional opportunity. The wedding Ceremonies! Most importantly, It is a biggest profit market in India as it is an once in a lifetime event for everyone and people are ready to spend to make it the perfect and best moment of their life. So, Fashion Designers in Fashion Wedding Planning can make a killing in INDIA…!!!
Conclusion
To sum up, if you are thinking of choosing a Career in Fashion Designing in India, Consider the above facts and act efficiently. If you are having any difficulties in finding yourself in fashion industry, we are happy to help you.
Wanna know more about Fashion Industry ? Check out the Highest paying Jobs in Fashion Field. Number 5 will shock you!
What made you gained interest in fashion industry? Let me know on the comments below!
---