9 Most Iconic Fashion Trends of Grammy Awards Ever !
It was in 2016 when Taylor Swift graced the Grammy awards with fashion in a high-slit hot pink satin skirt paired with a bright orange strapless crop top. Five years later, we remain swooned!
The award season has always got us glued to our screens looking out for the best-dressed celebrity with their crazy outfit trends. While the Grammy's might be all about the music, it is so much more than that. It is also about a night full of flashy, attention-grabbing ensembles, offbeat style, celebrations, and the birth of new fashion trends of the Grammy's.
After being postponed once, the 63rd Grammy Awards were held on 15th March at the Los Angeles Convention Center with more bling and sparkle than one could imagine. The music industry hit the red carpet delivering memorable outfits, representing their style and music. From stars dressing for comfort to stars arriving in full show, we got to see it all! The industry not only swept us off our feet with their music but also left us amazed.
Mentioned below are the best fashion trends of the Grammy Awards that The Urban Maniac has handpicked right from the red carpet and brought to you. Without any further ado, let's get to it!
Top Rated Fashion Trends of Grammy's Awards
LBD (Little Black dress)
A wardrobe essential, the Little Black Dress is one fashion trend that never goes out of style. Beyonce got our jaws to drop with this off-shoulder Schiaparelli Haute Couture dress. She did not only grab attention for becoming the highest awarded female artist in the history of Grammy Awards but also stood out with this effortless fashion and style. Learn from the goddess and get yourself a Little Black dress girl!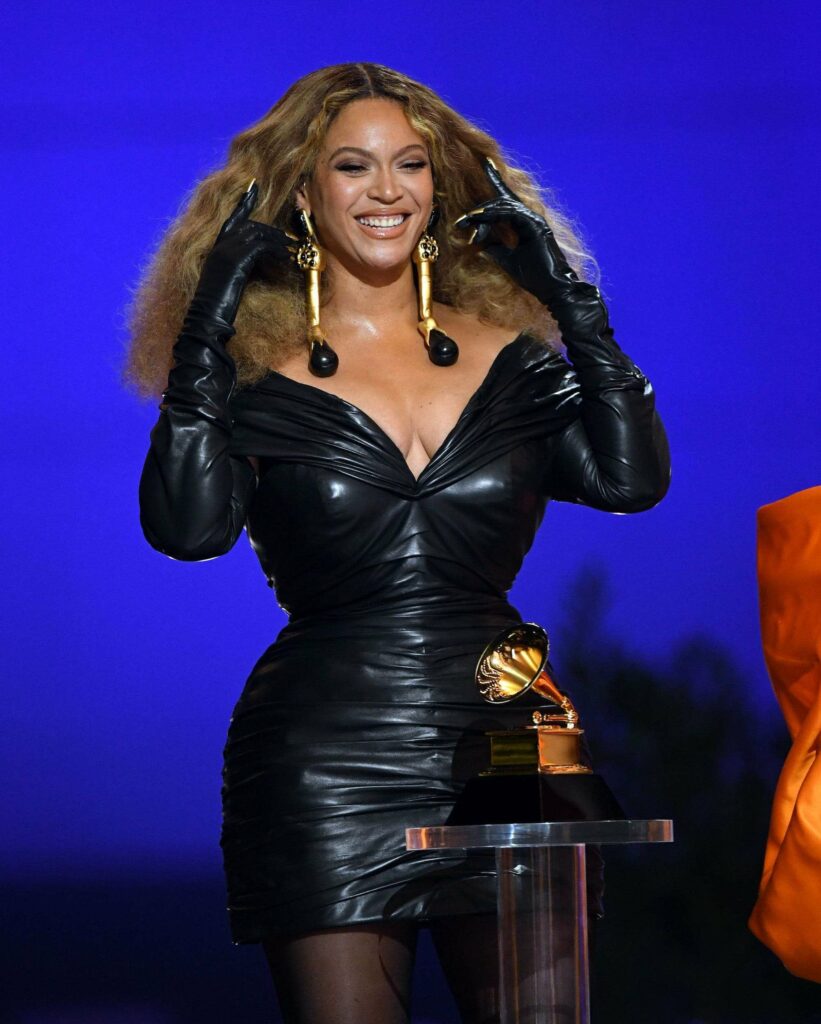 Leather Suit
Harry Styles's undying love for suits is something you must have noticed by now. Known to be a risk-taker, Styles always opts for out-of-the-box outfits. Looking absolutely sharp, he did stand out in his custom-made Gucci, recreating the 70s retro look with a green color feather boa. I know I am taking note of this look; the real question is, are you? Perhaps, a little black dress with a cute feather?
If you want to get more of Harry Style's eccentric style, you can explore it here: Best of Harry Styles Outfits Ever!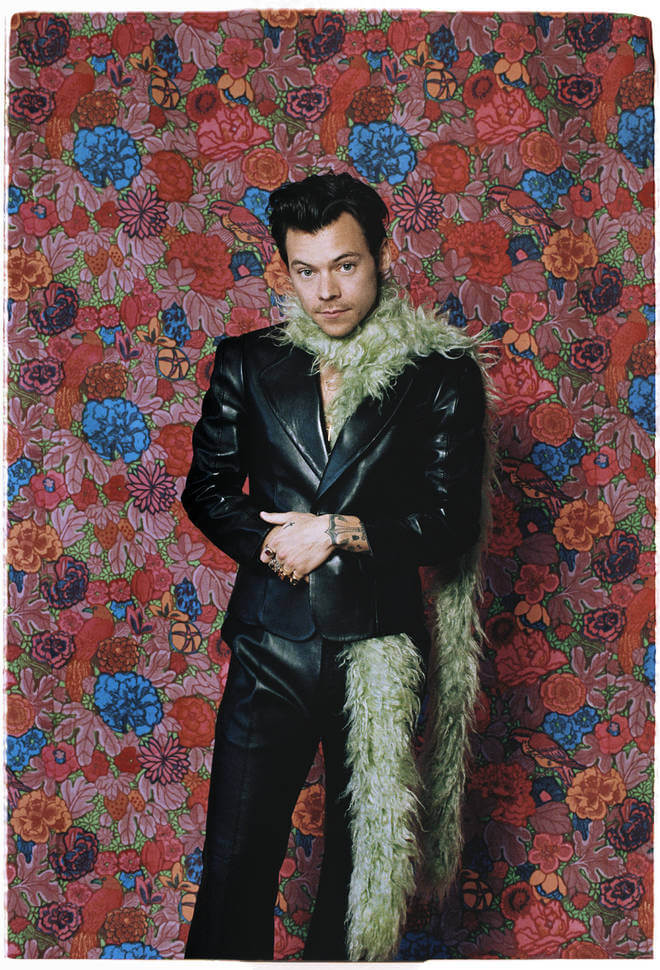 Bold Colors
Stepping out in bold colours has become quite the trend. Playing around with colours not only adds style to your outfit but gives it a new twist. The Grammy's 2021 was a colourful treat for the eyes as Megan Thee Stallion, Lizzo, and Chika; all looked 'Good as hell'. Megan walked the red carpet in an orange Dolce & Gabbana gown, Lizzo went for a ruched seafoam green Balmain gown, whereas Chika wore a pastel outfit in shades of pink, purple, and sea green with matching masks.
Do you know that experimenting with unique out the colors is also one of the top summer fashion trends in 2022? Check out the Best Summer Fashion Trends of 2022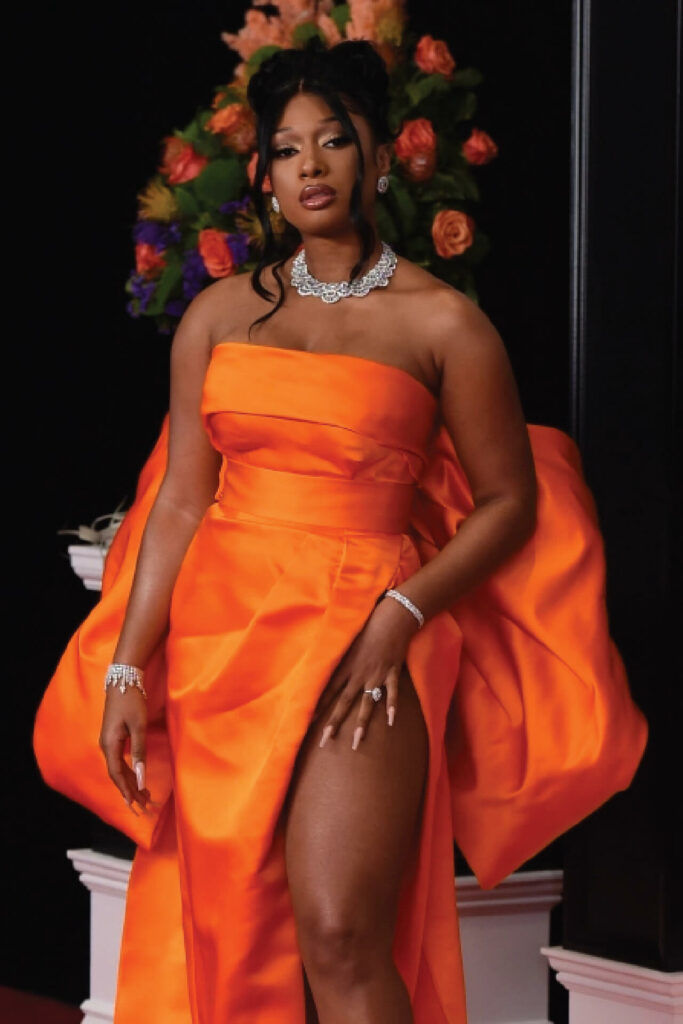 Feathers
Harry Styles was not the only one who relied on feathers to make their outfit look stunning. Joining the club was "Say So" singer Doja cat, who looked no less than perfect in Roberto Cavalli's custom gown. The top of her gown was a leather motorcycle jacket with a golden zipper. The ideal combination of leather and feather, Doja was out there, exactly like she intended.
On the other hand, Styles wore not one but three different outfits paired with colored feather boas. He indeed made boas a fashion statement as we cannot get enough of looking at him. Feather certainly was one of the best fashion trends of the Grammy's Awards.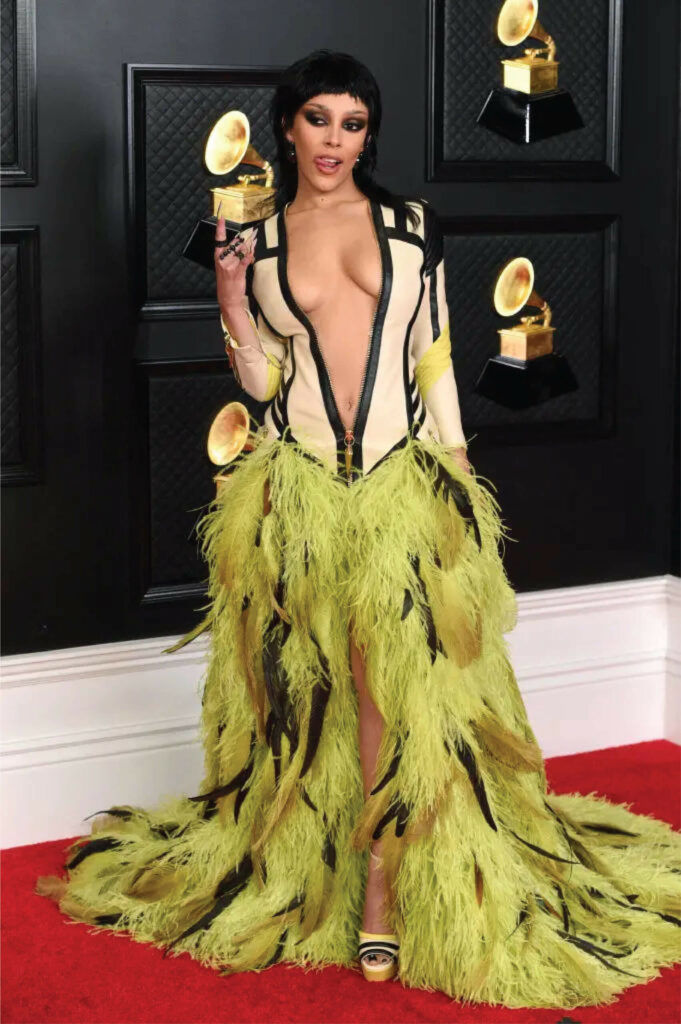 Printed Suit/ pant set
Though two slightly different outfits, DaBaby(right) and Billie Eilish (left), brought prints to the red carpet. DaBaby wore Dolce and Gabbana, whereas Eilish put on her signature style, pants, and oversized pink shirt designed by Gucci. Eilish embellished the outfit with sequin and DaBaby accessorized with a green hat. They indeed looked fly!! Prints are definitely in the books and are a fashion trend to look out for.
If you are looking to go beyond plain colours and experiment with something new? Take inspiration from these two celebrities and try out cool prints asap.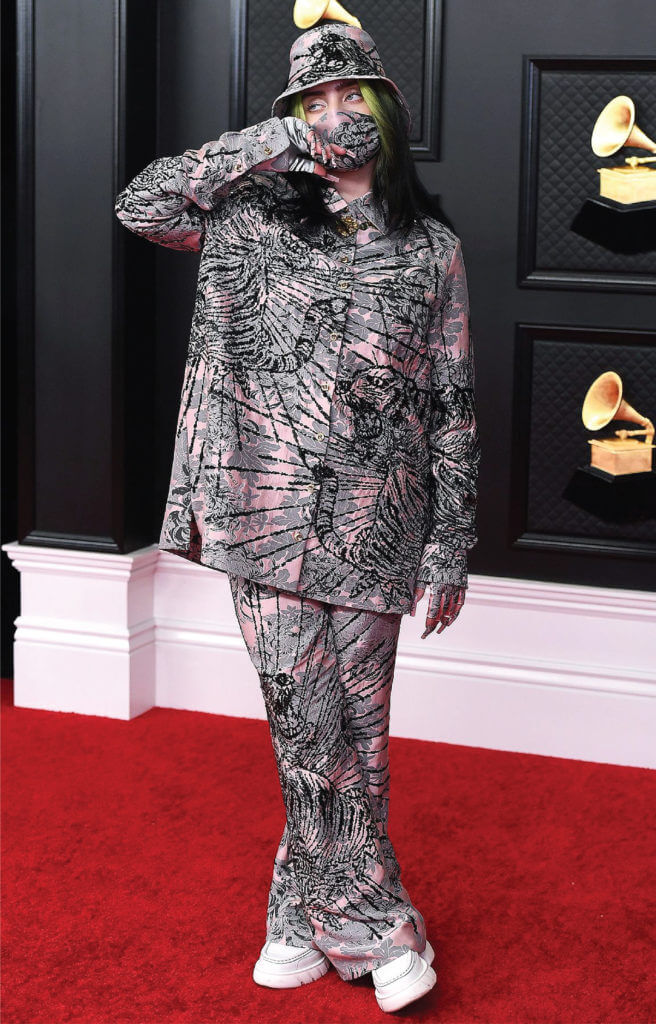 Floral
After four years, Taylor returned to the Grammy's red carpet, and she did it with a Bang! Tay-Tay won the album of the year for 'folklore' and our hearts with this floral treat. Looking fresh as spring, she picked this outfit right out of Oscar De La Renta's Fall 2021 collection. This long-sleeved mini dress was certainly eye-grabbing, and I am sure you cannot wait to get your hands on it. She completed the look wearing a matching face mask and Christian Louboutin heels. Creating one of the best fashion trends of Grammy Awards, she's the bouquet we all want to catch!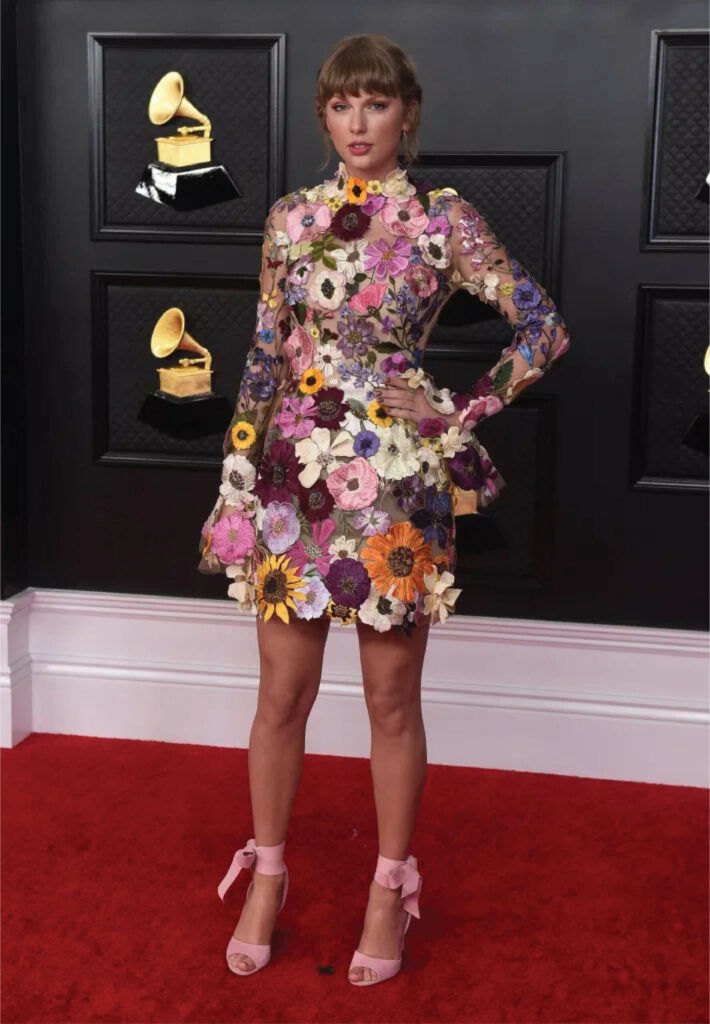 Knee-high boots
The violinist, Mapy, brought her violin to the Grammy Awards and brought Fashion and style disguised as her knee-high boots. Perfectly complimenting her outfit, the snake print on the front of her white boots definitely takes the cake. Contrary to popular belief that knee-high boots are best suitable for winters, Mapy, with her ensemble, did establish a fashion trend that you can steal for your next look.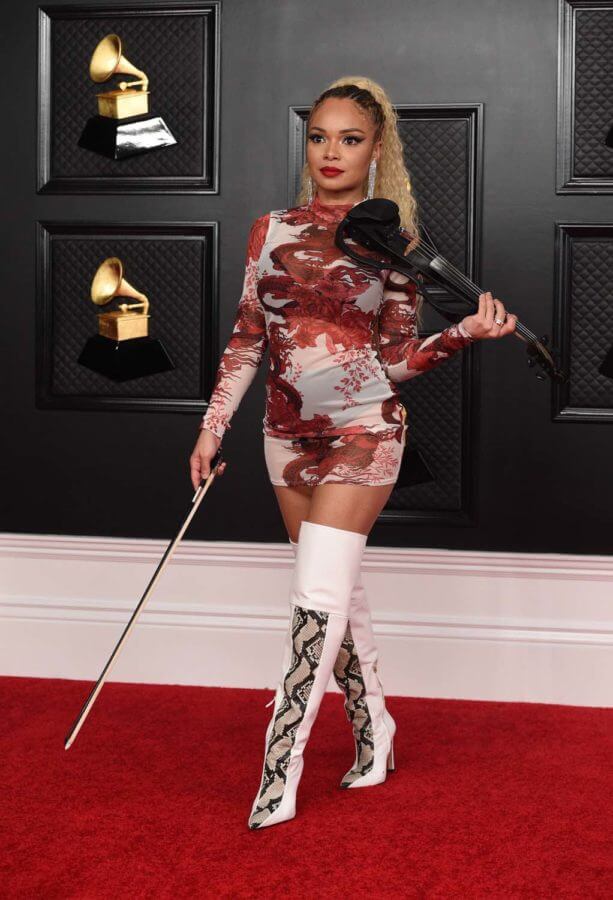 Love Winter Fashion? Check the top winter outfits of all time !
Headgears
One of grammy's fashion trends was headgears as Beyonce and Bad Bunny were spotted wearing them. Beyonce later in the night slipped into an elaborate glitzy silver Burberry gown paired with a turban perfect for celebrating her achievements and enhanced the look by pairing it with Lorraine Schwartz jewelry. Bad Bunny also brought his A-game with his exceptional style. Proving to be one of his best looks yet, he wore A Jet-black Burberry suit with a hat that has cute little ears.
There is only one word for creativity and the headgears: INCREDIBLE!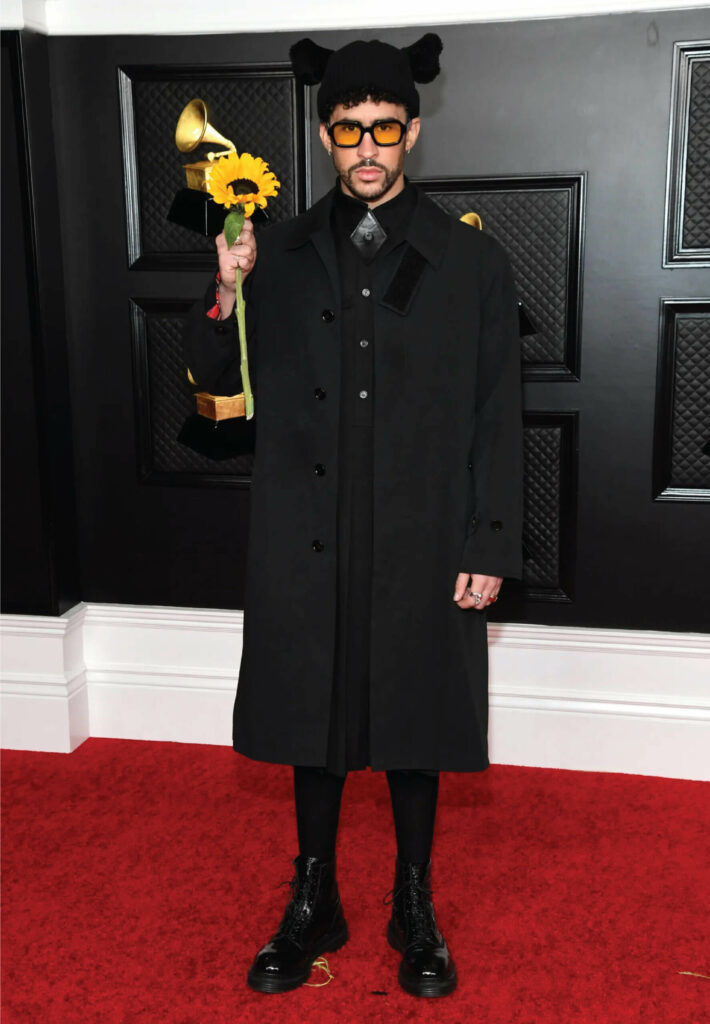 If you are still not convinced and looking for alternatives, headscarves are one of the top 10 fashion trends of 2022. Check out Most Versatile Fashion Trends of 2022
Sheer/ Nets
Dua Lipa(left) enthralled the audience not with just her performance but also with her detailed crystal Versace outfit. Lipa was covered in elegance and sparkle from head to toe and a sheer chainmail skirt. Lipa wanted to channel a butterfly through the dress as the creature holds an essential significance in her life. Boy! She was successful.
A first-time nominee, Mickey Guyton dressed right for the occasion. The singer wore a Valentino gown adorned with butterfly embroidery on the net running from her shoulders to the floor. (Is butterfly detailing proving to be a new fashion trend today?)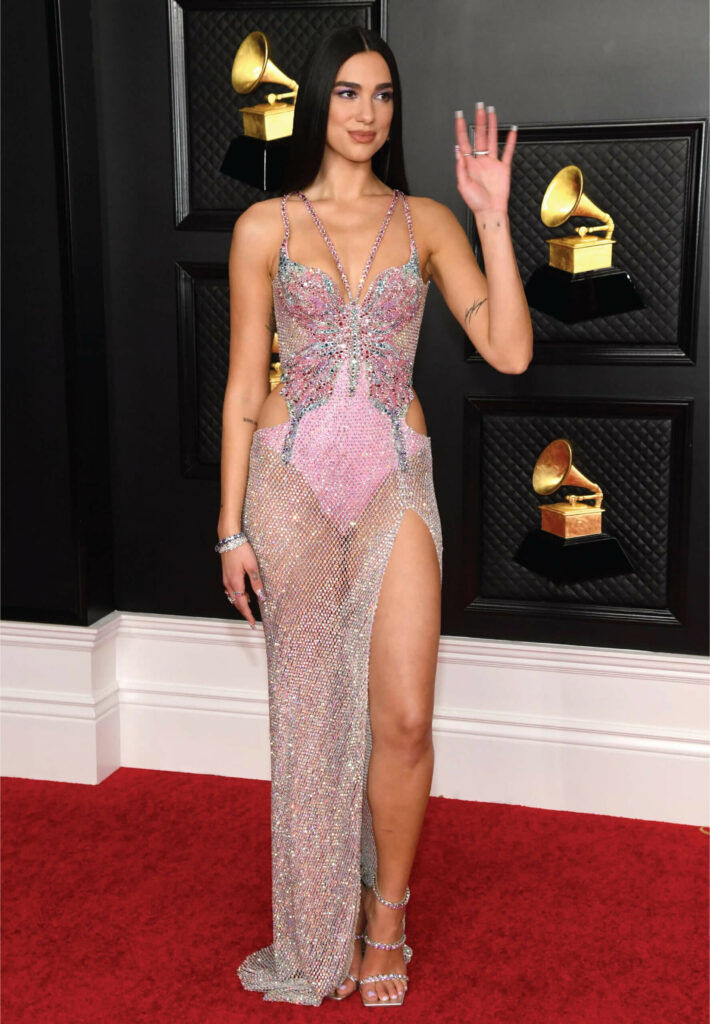 Grammy's red carpet is full of style and sparkly outfits. As celebrities walk with glitz and glamour, they leave the floor giving birth to new fashion trends of the Grammy awards for us to follow. We at The Urban Maniac have picked out the best of trends and we cannot wait for you to try these out for a red carpet of your own. Experiment away for the world is your red carpet.
Do comment below and let us know which was your favorite trend that you are definitely going to wear.
---