As you can imagine, I, like many others, was delighted to hear the news of a FRIENDS reunion. Mainly because I was excited to see how Rachel's style has evolved in over a decade. In the last few years, I have taken inspiration from many places but Rachel's effortless and youthful style has been a constant source. Let's see which Rachel Green outfits would totally dominate 2022!
What makes Rachel's transformation both in her style and as an independent adult so compelling is her constant need to move forward.
And throughout the ten seasons we've seen her go from a spoiled helpless little girl who still used daddy's credit card (Ross' words not mine) to a big executive and this leads some to believe Rachel may be the real protagonist of the series.
By the end of season ten, we already saw Rachel reject the Paris job and decide to stay in New York. Despite my optimism, I don't actually believe that Ross and Rachel could've made it work long distance. So for the sake of this blog, I'll assume she kept her job at Ralph Lauren (because Gukki wouldn't take her) and continued serving exemplary Rachel Green outfits from NYC city.
And yes, I know the reunion special is not in an episode format but rather the cast and crew taking a trip down memory lane, and thus I'm not expecting many fashion moments. Surely, we'll see the stars in their couture gowns and tailored suits but I wanted to see the genius of Debra McGuire in the works once again.
Since it seems that won't be the case, I decided to take things into my own hands and analyze Rachel's style transformation and how it would've evolved in 2022. 
A quick summary of Rachel Green outfits and her style throughout the ten seasons
Rachel's style at the start of the series can be described as whiscimal almost juvenile. It is also much more casual because of her job at the coffee shop. We see her wearing a lot of skirts and loungewear. Her hair is what stands out the most in the first season. She also rocks denim on the regular in forms of vests, dungarees, shorts and skirts. However, we should give her credit to rise above the 90's Normcore aesthetic and shine as the best dressed character.
Season two also focused on Rachel's relationship with Ross. This season was also focused on casual wear. Not much happened except sweaters, skirts, some leather jackets and more denim.
TimeLine of Rachel Green Outfits from season 1 to season 10

Season three is when we start to see Rachel's style really evolve. She finally finds the courage to quit her job at the coffee house and pursue her passion, and she dresses the part. This season's costumes were much more polished and professional. We see a lot of skirt suits, suits, and boots (oh the boots!) We also see Rachel in argyle on more than one occasion.
Now that we know that Rachel has a job she loves, her work wear only keeps getting better. We see her in suits and more professional outfits. Her casual wear also seems to be individualistic and experimental. She also indulged in some trends from time to time which include aztec pjs, a dress with pants, peasant tops, etc.
She also becomes increasingly comfortable with her sexuality and this is reflected in her date outfits.
And slowly, we see Rachel go from ex-cheerleader to Parisian Chic. By the end of season ten, we see her become self aware and completely in control of her style.
Although it would've been fun to see how Paris influenced her fashion sense, we have to stick to the All-American style we last saw Rachel in.
What would 2022 look like for Rachel Green?
A fashion executive with almost two decades of industry experience. It is likely that Rachel would be aware of most of the industry trends and the most important designers in NY at least.
At such a mature stage in her life, I don't think that Rachel shops very often or even cares about trends which are only relevant for a few weeks. Instead, I think Rachel has already cracked the code of her personal style and for a long time now, only wears clothes that define her.
And from personal observation, I can confidently describe her style as timeless, effortless and modern.
Rachel has already proved herself worthy of a LBD connoisseur. She also has a good sense of everyday classics to which she gives her own twist and she can easily be the cover girl for corporate chic.
We should also remember that she is a mother of a teenager, so she is allowed to have her mom fashion moments every now and then but needless to say, I'm sure that they're no less iconic than the Rachel Green outfits from before.
Anyway, here is a list of Rachel Green outfits I envision she would be wearing in 2022:
All American: Ralph Lauren
Ofcourse, this is on top of my list. She gets a 45% discount, remember! The current Ralph Lauren also fits into her classic aesthetic.
With almost two decades at Ralph Lauren she might as well be the CEO. So, yes I think she would definitely still be rocking Ralph Lauren on the daily.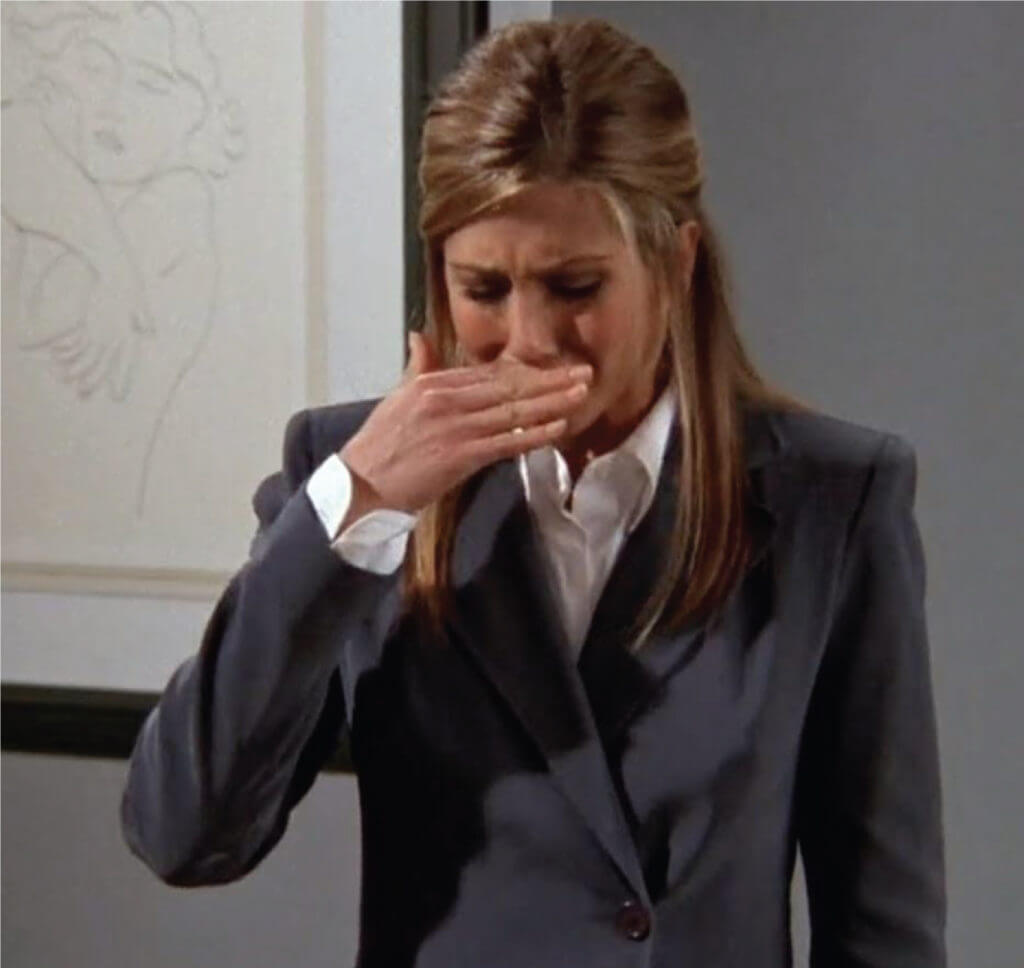 The formula to this look is simple: pick neutral tones, make sure the clothes fit well and pick a two piece suit.
Ultra-luxurious: The Row
The Row may seem like just another brand to anyone who doesn't know their USP. The Row is all about subtle luxuries and they create minimal and sophisticated designs with the most exquisite material. They also happen to be very expensive, and all of these lead me to think that The Row's accessories would especially appeal to Rachel.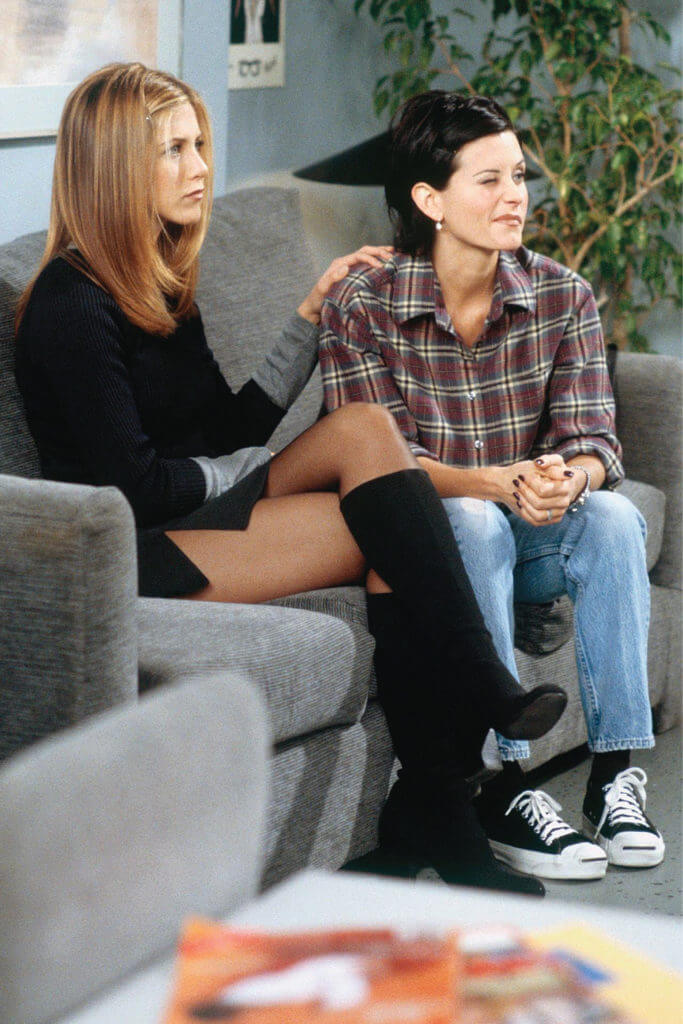 There is no real hack here, except saving for years and then blowing it on boots. That's what Rachel would do.
It's spelled like Gukki
We already know Rachel likes Gucci. Agreed that that was the era of Tom Ford's sexy minimal Gucci, and now Gucci is… different.
However, Rachel has never shied away from colours and prints. This leads me to think that she would enjoy Gucci in 2022 within reason. And whose to say that the 2022 version of Rachel Green outfits would not include mini splashes prints and colors here and there!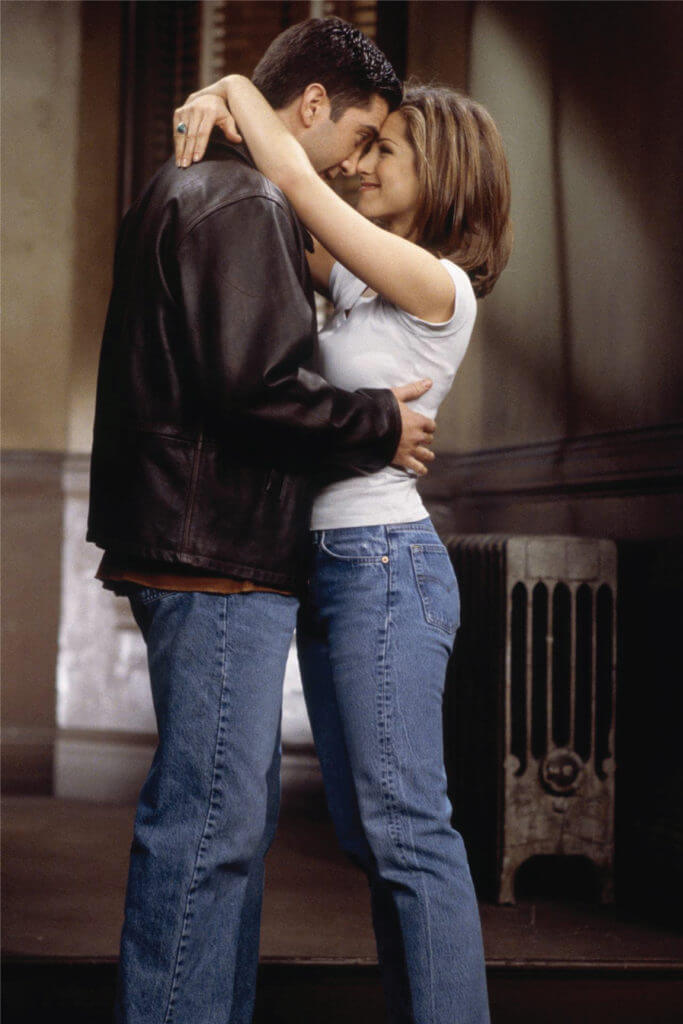 Some of Rachel's most popular outfits were termed as classics and things you could still wear today. But basics can be boring, and so I urge you to see how Alessandro Michele gives a fun twist to these classics and try that yourself.
Parisian Chic: Celine
Celine in my eyes is youthful and effortless. Those are also the words I would use to describe Rachel's style in the earlier seasons. Even though they both describe the words in different ways, we can see how her youthful fashion might have changed in two decades. Hedi Slimane's Celine may be Rachel's haven to Parisian Chic which maintains sexiness and maturity through and through.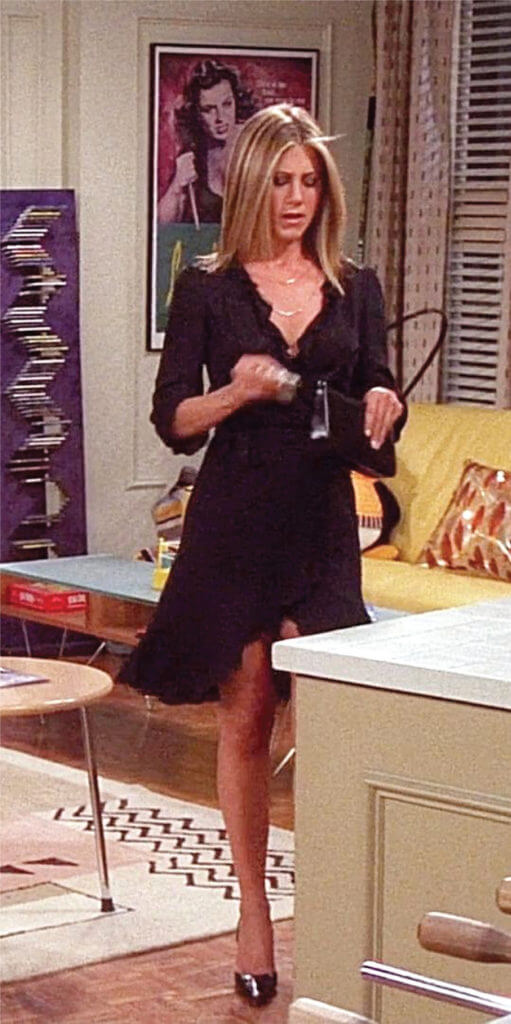 It's not that hard to recreate many of Celine's looks but it takes a lot of knowledge to understand the importance and relevance of Hedi Slimane's vision.
American elegance: Michael Kors
I can't explain this, but Rachel is the exact image of a MK client. She's elegant, playful and well… American. Michael Kors has that underlying sexiness which I associate with Rachel. More specifically his outerwear and workwear is where I see her shine.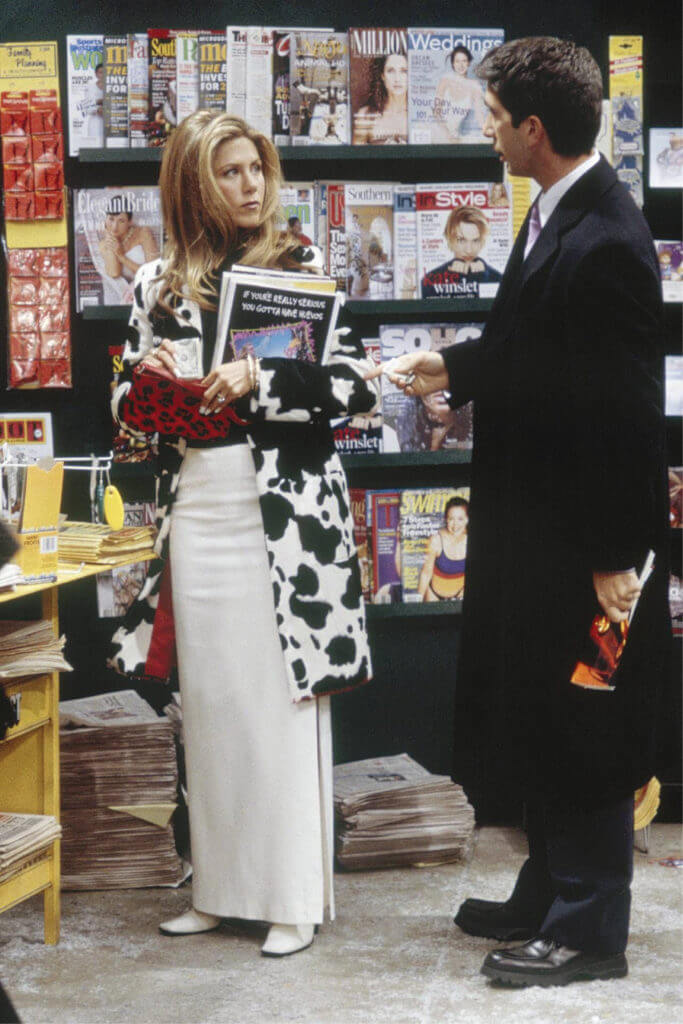 My only tip for pulling off this aesthetic would be to figure out what is sexy in your eyes and make bold choices in that regard.
A dash of playful: Prada
In my head Prada's contemporary humour is something Rachel devours occasionally. Prada definitely has one of the most peculiar business models in Milanese Luxury Fashion, and by peculiar I mean "their clothes are so weird who wears them!"
This may be a bit of a biased opinion because I love Prada, but I definitely see her wearing the iconic vintage Prada Spring 2000 silk lip skirt to work for another one of the classic Rachel Green outfits.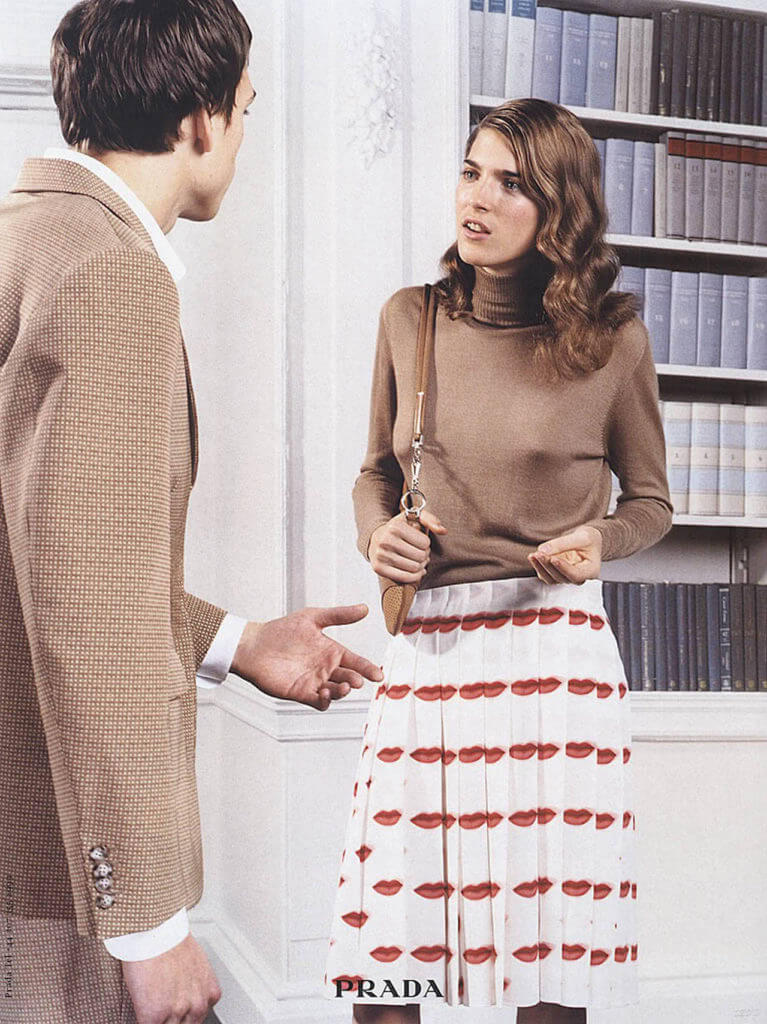 Girl next door: Zara
Rachel can't always wear clothes that cost thousands of dollars. This is where I imagine Rachel walks in after a Sunday brunch and shops till its sundown. Zara is also a great place to buy trendy clothes without getting too attached.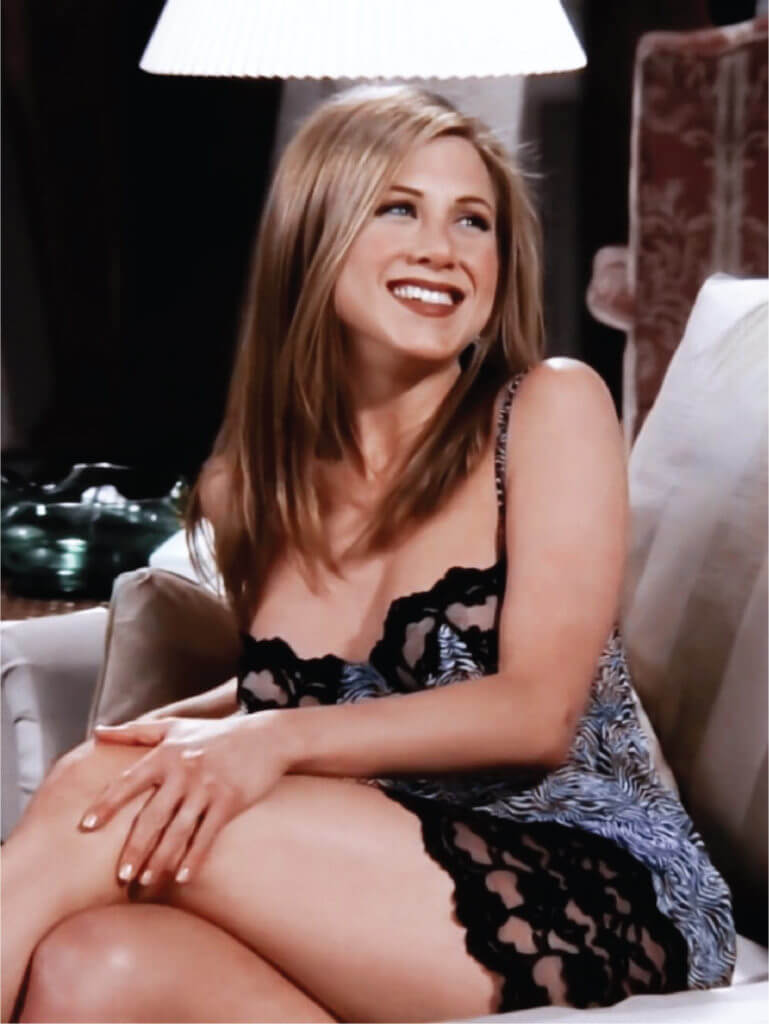 Stock up some chic basics from Zara and tailor it every season according to your favourite seasonal trend!
Minimal goddess: Trois the label
Trois the Label is a minimal brand with feminine silhouettes that seek to accentuate the female form. Rachel's love for bodycon dresses is what is bound to attract her to this label.
Personally, their knitwear is my absolute favorite because of its simplicity.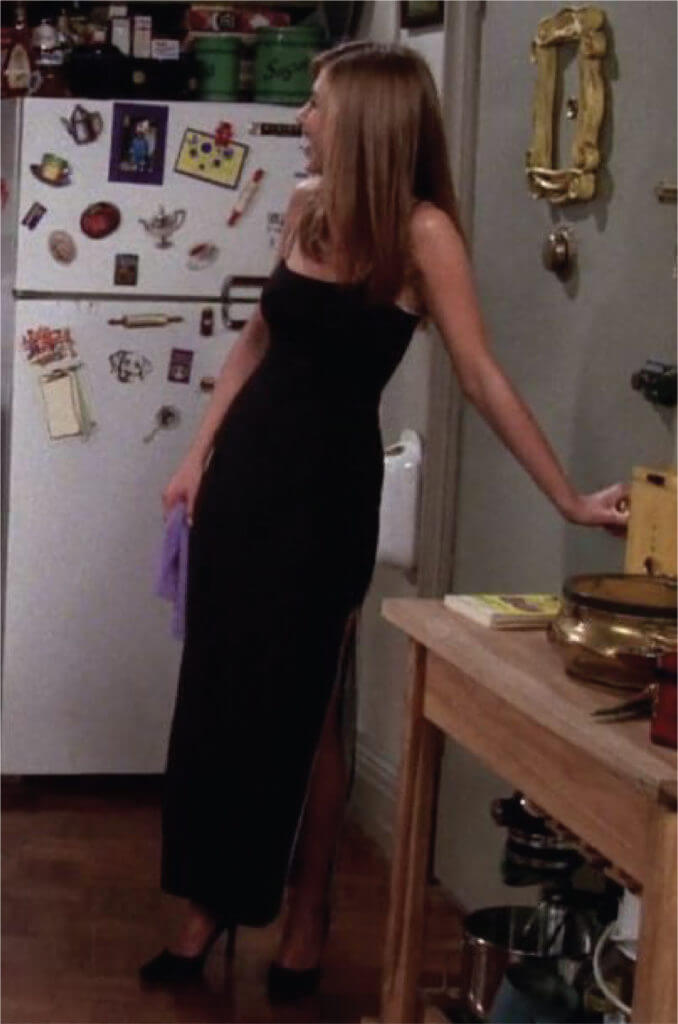 Utility outerwear: Burberry
We're all well aware of Rachel's love for a good coat, so it only makes sense that she would invest in a signature Burberry trench coat. It is a fashion staple and I can bet my favourite pair of boots on it.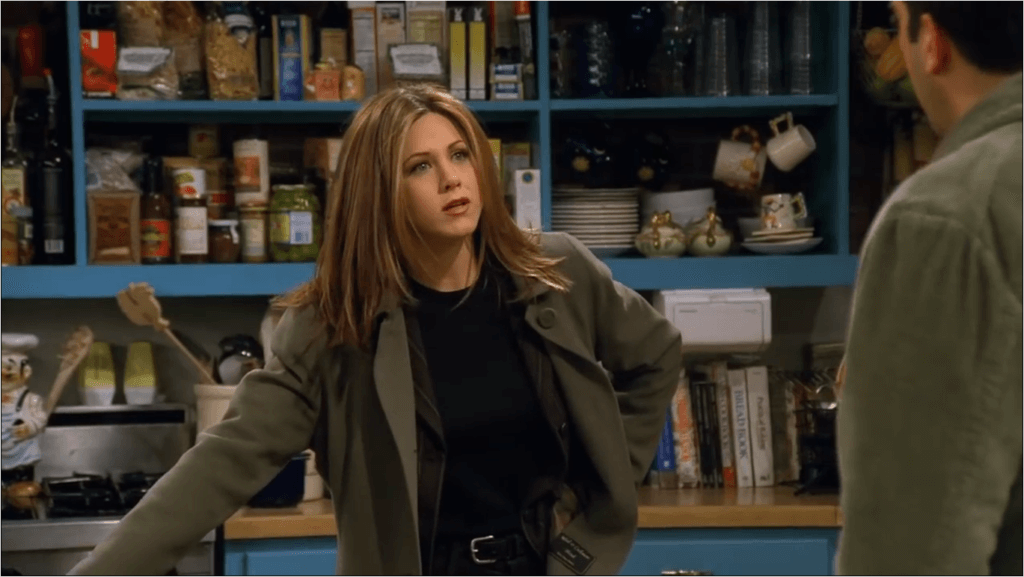 The trick with a good coat is to find one that is durable and fits well while giving you some room to wiggle. Coats can be worn for years when you choose the right one so be very patient when buying one.
Guilty endeavors: H&M
This is where I imagine Rachel and Emma just hanging out. H&M again is a very easily accessible brand which caters to almost every demographic. While younger Rachel would be a better match for H&M youthful and carefree aesthetic, I can still see her wearing casual H&M clothes while hanging out at the coffee shop.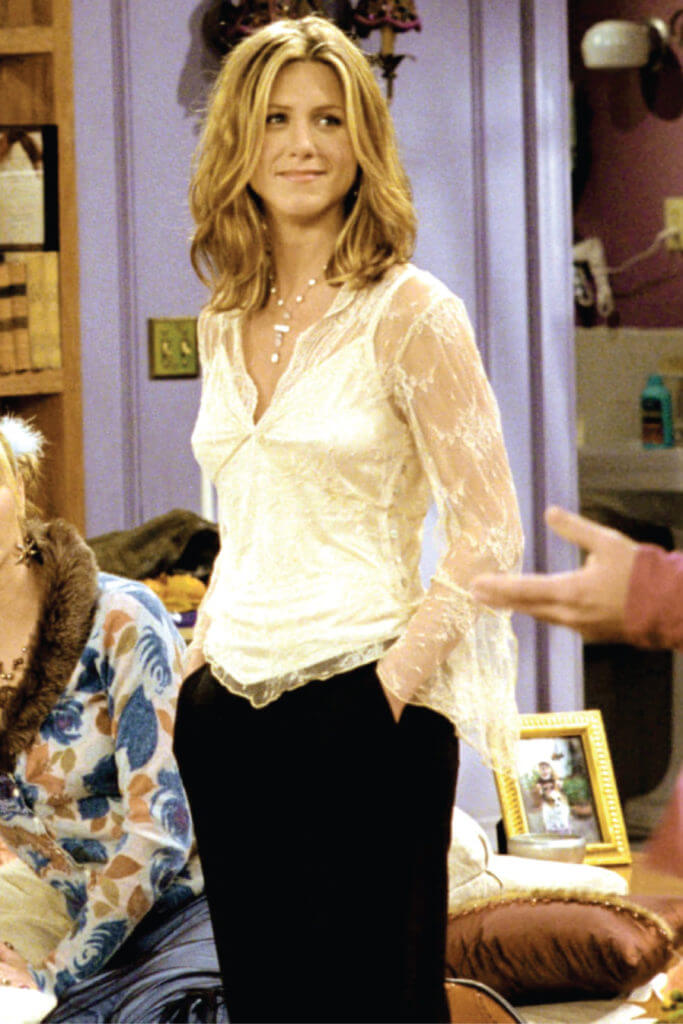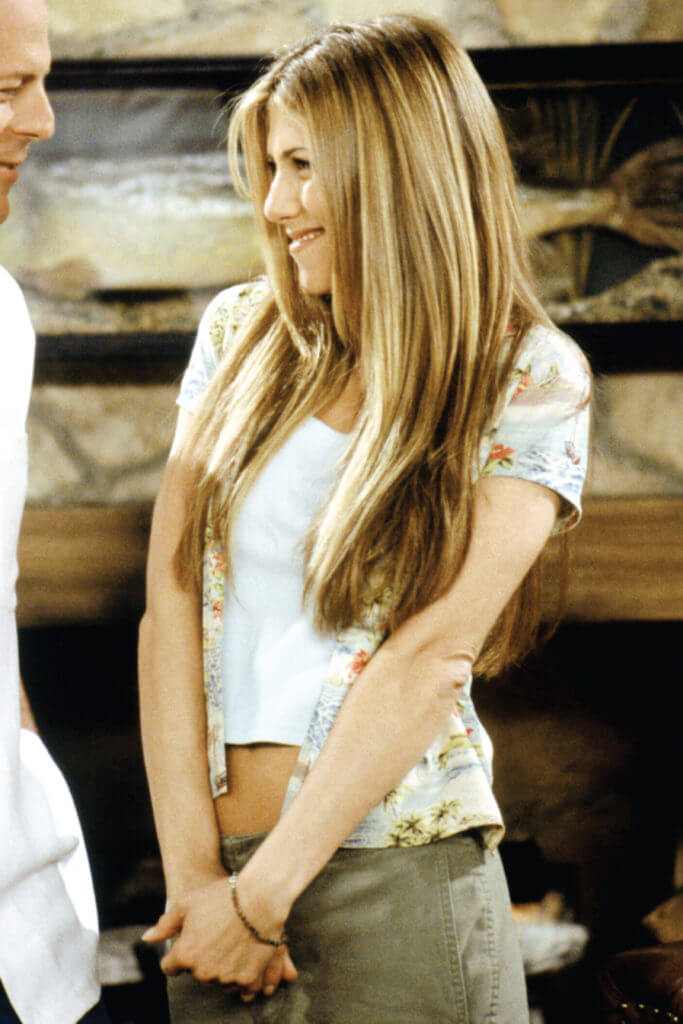 Bonus outfit: Emma's graduation
Manifesting Rachel attends Emma's graduation looking as radiant as ever in this Vivienne Westwood suit set. The balance between sexy and modest is what makes this so appealing to me. The jacket has a ruched sleeves and nipped in waist to give an ultra feminine silhouette while the mismatch lapels and wide shoulder are reminiscent of 80s iconic power suits.
The draped skirt is asymmetric but brings a Vivienne Westwood signature weirdness as the wrapover falls at the back. The look can be complete with a sleek pair of stilettos and a pearl necklace. Definitely one for the 'Rachel Green outfits' lookbook!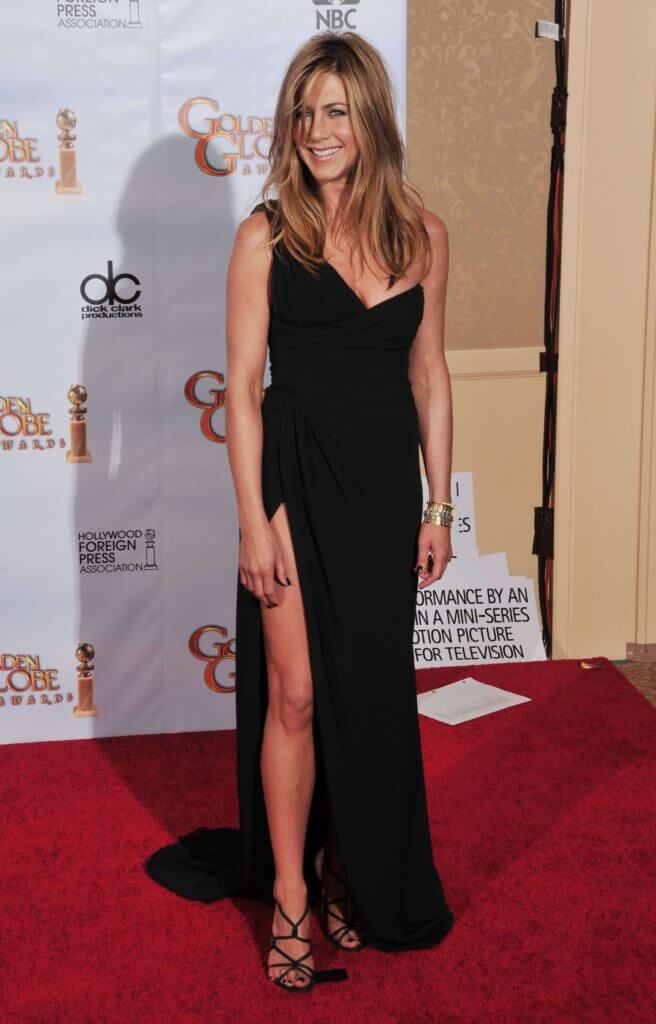 Conclusion
Rachel Green is one of the best characters to look at when studying the influence of adulting on personal style. Her style evolution is just as compelling as her character development and this is what made it so easy for us to root for her.
Rachel's journey has also made a lasting impression on me and her willingness to put her job before her friends and love life and embracing discomfort and constant change will remain to be an inspiration for me.
Meanwhile, you can learn more about 90s Normcore or 2000's eccentric escapism and tell me which era you prefer!
And do let me know if you would like to see some styling tips on how to dress like your favorite FRIENDS character in the comments below.