Top 22st Century Retro Fashion Trends to Look Out For !
You all must have heard about the 21st-century Retro fashion trend at least once. The question is, what do we mean by 21st-century Retro fashion trends?
Fashion is unpredictable, as trends keep coming and going out of style. It is hard to keep up. One moment you were swooning over a pleated skirt, and the next moment they are already out of fashion tucked away deep in your closet. Twenty years later, you spot the same trend take over social media, as from celebrities to influencers; all are wearing it. It's a vicious circle.
It's Retro fashion, baby! You would be surprised to see the number of trends that have made a comeback from the 60s or 80s with a new makeover or a twist in the 21st-century. Trends might go out of fashion but take my word for it, ladies, they NEVER die. Sooner or later, they will make a comeback (all thanks to the 20-year rule). Older trends, from knee-high socks to flared pants to Babushka scarves that we cannot get enough of, all belong to the 21st-century Retro fashion trend.
What is Retro Fashion?
Have you ever worn pants or a puffed sleeve blouse that made your mom go, "I used to wear the same outfit when I was young like you"? Congratulations! You belong to the club of Retro clothing. The piece of clothing that makes your mother nostalgic belongs to the broad spectrum of retro fashion.
You must have often noticed that certain stores and brands bring back older trends from the 80s or 90s. They achieve it by either recreating those looks or simply designing a new version, adding their brand signature without compromising the original retro element.
Retro clothing often represents the style of a piece of clothing more than the period in which it was created. It is a fresh style that is subconsciously derived from or an imitation of trends typically 15 to 20 years old. Retro fashion is often confused with Vintage clothing, so here are some basic differences between the two: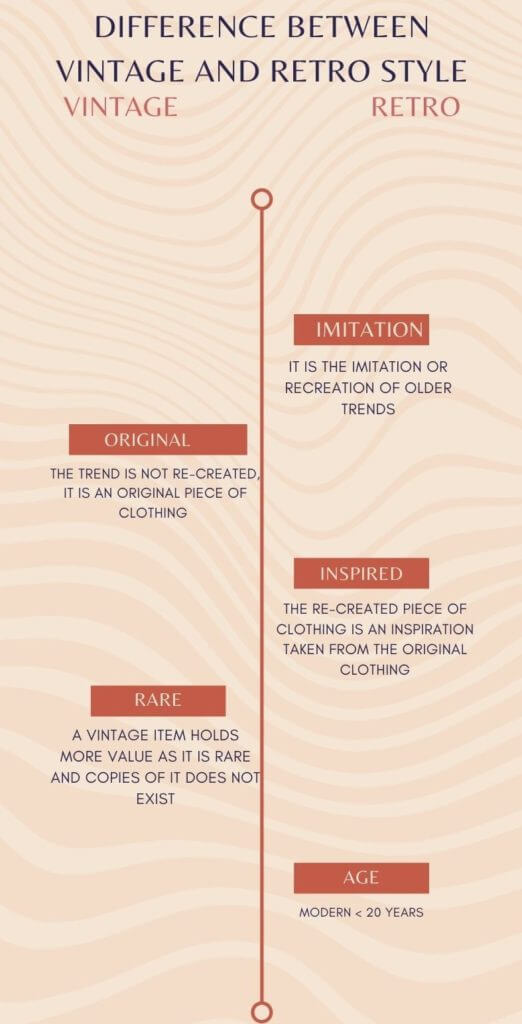 Now lets' get to exploring top 10 21st century Retro fashion trends, shall we?
Mom Jeans
Once widespread in the 1990s, mom jeans have indeed become an essential part of our wardrobe. Perfect for summer, you can now bid goodbye to your skinny jeans and slip into these comfortable, loose, high-waist pants. From pairing them with sweaters to tucked-in shirts to embellishing them with belts, there are hundreds of ways to experiment with these pants.
Scarves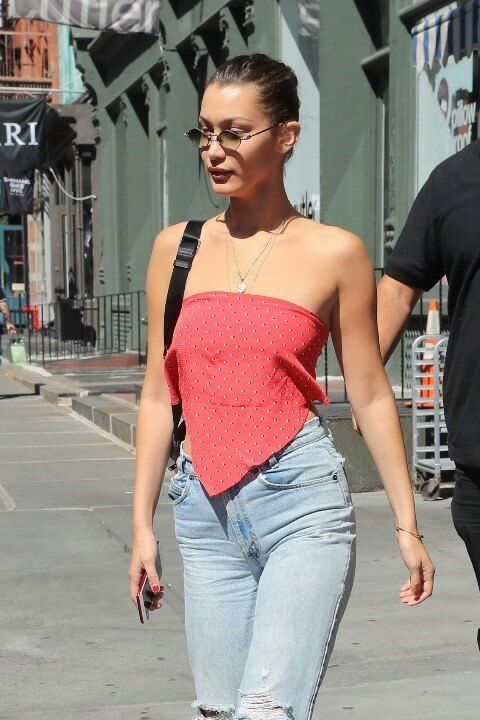 By now, you must have seen many videos on different ways to style a scarf on social media. From styling it as a top to bralette to a simple hair accessory, scarves are one of the top 21st-century Retro fashion trends. Used generally as a hair accessory in the 50s, the trend's comeback has enabled people to get creative and introduce new ways of designing a scarf. So, get your creative juices flowing ladies and style a scarf.
Flared Pants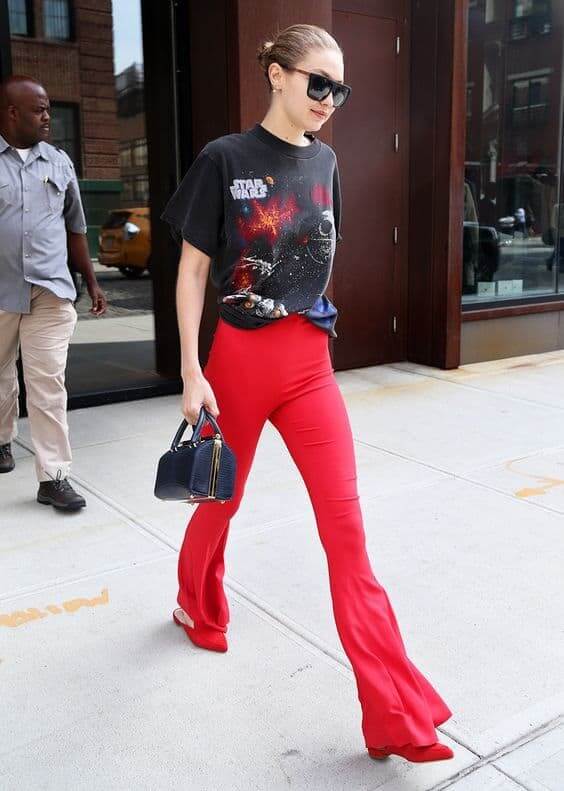 One of the modern 21st-century retro fashion trends is the flared pants. Popular in the 1970s, flared jeans have surely made a comeback and are here to dominate our closet for quite some time. The jeans are available in different colours such a black, pink, green and so on. If you are looking to get your hands on retro-style clothing, definitely start with flared jeans, as you can wear them daily and for special events.
Find out which Friends Tv show character would style these pants.
Denim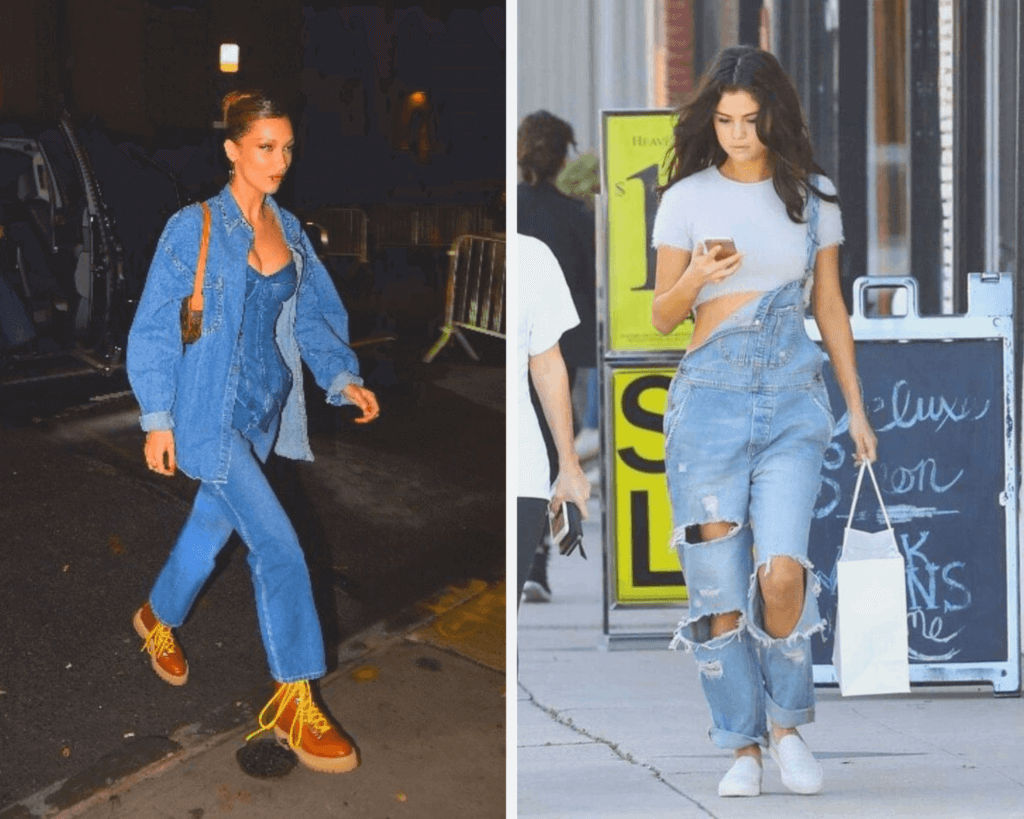 Denim takes us back to the era of the 1870s when it was born. Developed initially as workwear, denim has blossomed into versatile fashion wear. From jumpsuits to swimwear (Yes! There was an era when denim swimwear was all the talk), denim shined in all. Now in the 21st century, denim has made a comeback with its own modern twist. Ribbed jeans, jumpsuits, denim jackets, we are wearing it all. The comeback of denim can also be traced through popular brands such as Chanel's "Balade en Mediterranee"
Did you know that denim on denim was an integral fashion trend in the 2000s?
Knee-High Socks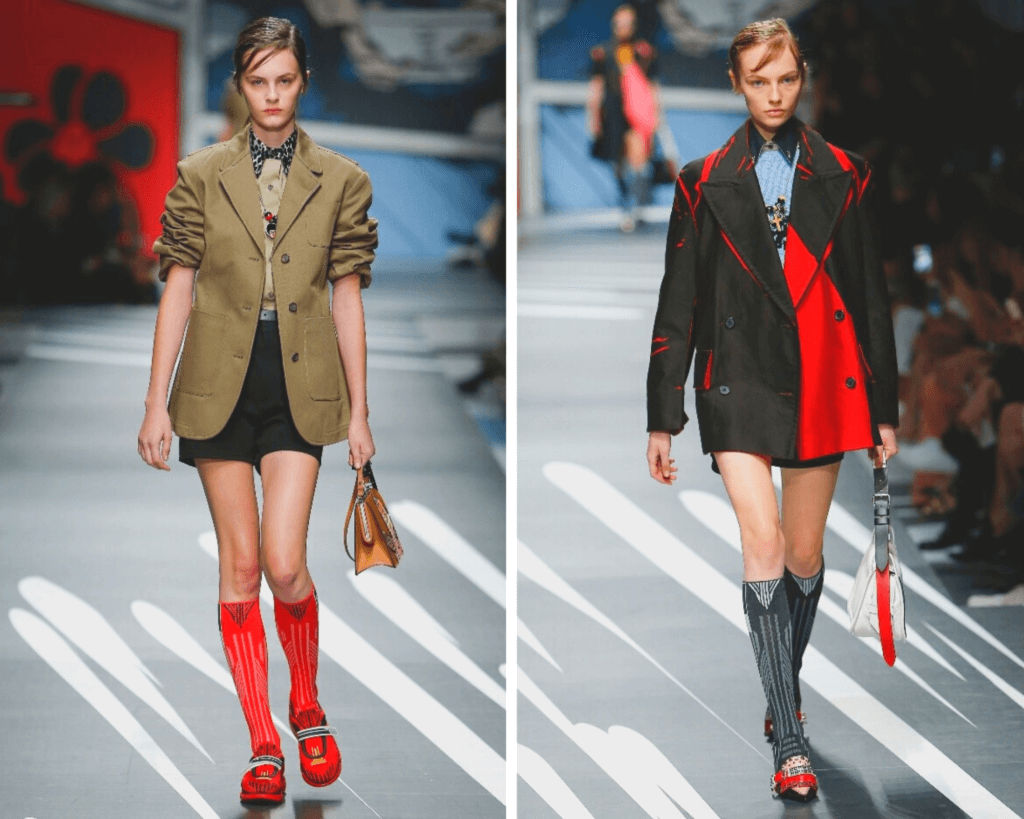 One of the noticeable trends in Prada's 2018 Spring collection was Knee-high socks. A trend of the 1960s, knee-high socks is now making a comeback. Contrary to popular trend, they are not worn with heels but rather with flats of various kinds. From celebrities like Mila Kunis to Ariana Grande to Selena Gomez have all fabulously styled the knee-highs socks.
Puffed Sleeves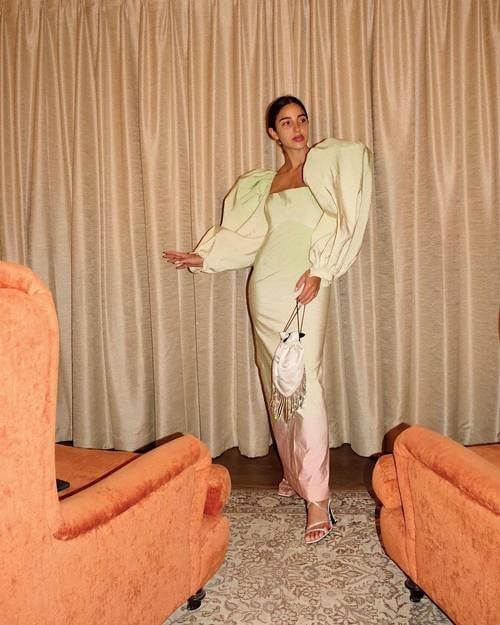 One 21st century Retro fashion trend that we cannot get enough of is puffed sleeves. The 80s trend found its way back in the books in the year 2018. Two years later, they are just as popular as ever. From dresses to tops to blouses, you can find puffed sleeves in different styles. Remember girls; the puffier, the better.
Cardigans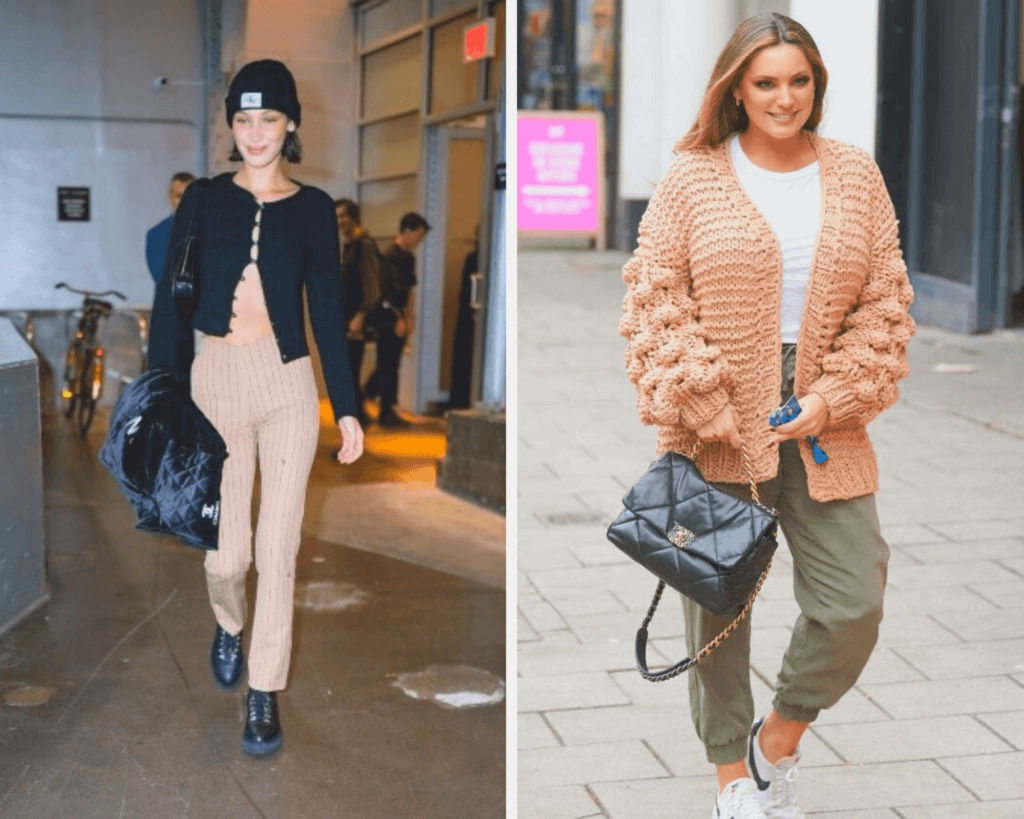 The coming back of cardigans might not be as shocking as the resurgence of square-toe shoes. Suitable for mild winters, there is nothing as comfortable as wearing a cardigan on top of your strappy/sleeveless dresses. The 21st-century retro fashion trend cardigans are now worn as long to crop top and look incredibly chic.
Follow the link for more winter outfit inspirations.
Square-Toe Shoes
Square toe shoes that can be traced back to the Japanese culture and the 90s became one of the hottest Fall trends of 2019-20. Thanks to Bottega Vanetta, one of the major contributors in bringing back these shoes, the square-toe shoe has made a delight comeback and is now worn by famous celebrities like Kendall Jenner and Hailey Bieber. They are available in a range of colours and patterns such as mesh, leather, and so on. From mom jeans to flared pants to denim, you can style a square-toe shoe with all.
Bike Shorts
Widespread in the 80s, bike shorts always find a way to make a comeback. First in the 90s and now in the 21st century, it is indeed one 21st century Retro fashion trend to have in your closet. Celebrities like Kim Kardashian have been spotted wearing bike shorts on more than one occasion. Often regarded as sportswear, bike shorts have now moved beyond that and transformed into casual wear.
Chunky sneakers
Chunky dad sneakers are back, and they are here to stay. I am pretty sure that most of you must have gotten at least one pair of chunky sneakers in your shoe rack by now. They are athletic, look fashionable and now come in cool prints. High-end brands like Gucci and Balenciaga have also released chunky sneakers. You can pair it with skirts, bike shorts, loose pants, and dresses.
In Conclusion
If you come to think about it, most of the trends that we follow right now are 21st-century Retro fashion trend in some way or the other. A mix of numerous older trends, it truly is an incredible culmination of modern and retro.
For more retro fashion inspiration check our blog post on 2000's fashion.
Comment below and let us know which are your favourite 21st-century Retro fashion trend.