It was during the 1870s when the production of denim began as workwear in the form of overalls. Since then, denim has undoubtedly dominated our wardrobe, and why shouldn't it? It is versatile, durable, comfortable, and never goes out of style. So shouldn't you know how to style a denim shirt for men?
Tell me if I am wrong but, men's love for denim shirts is undisputable. Suitable for any occasion, be it casual or formal, this year-long wearable fabric is a classic rescue when one doesn't know what to wear. From rockstars to celebrities, they have all rocked the denim look.
Most of the time, men know what to wear but often struggle with how to wear it. There are several ways to style your basic denim shirt, dress it up, layer it, leave it open; the possibilities are endless. Mentioned below are six ways to style a denim shirt and change your fashion game altogether.
Let's Dive Right In !
1. Style with Double Denim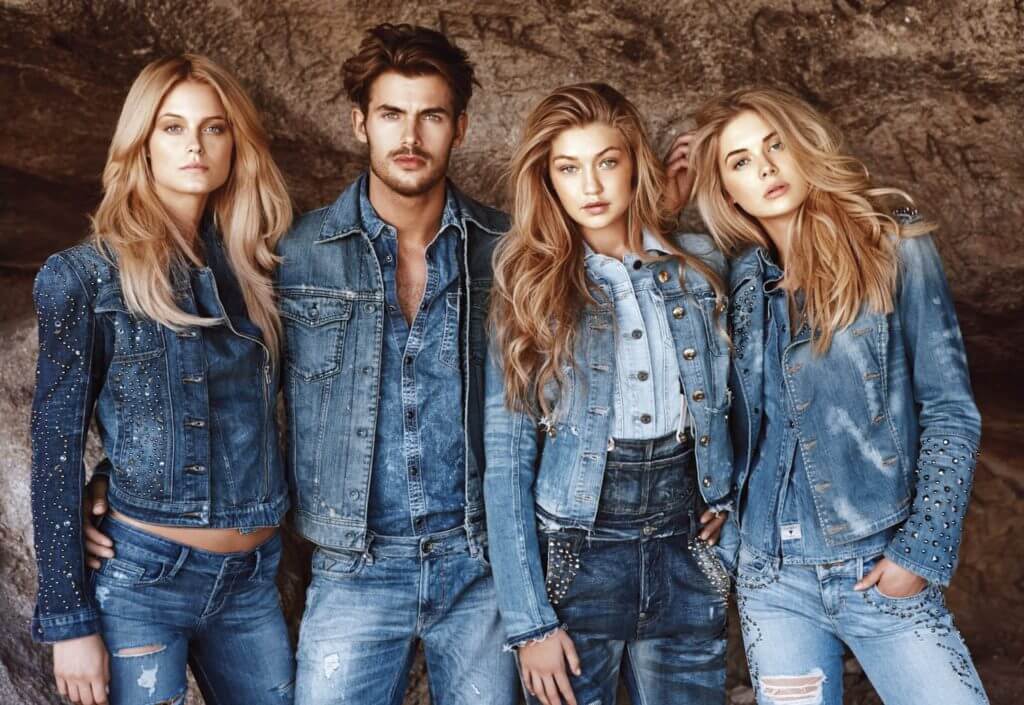 One of the most basic ways to style your denim shirt is to pair it with jeans. But has anything ever been basic at The Urban Maniac?
Add a little funky twist to your outfit and transform from basic to chic with the Canadian tuxedo look i.e., denim on denim. Contrary to popular belief, denim on denim look has been in the books for quite some time and looks effortlessly cool. The hack here is to style it with a t-shirt and add the denim shirt (men) on top as a jacket or just style the denim shirt (men) with denim jeans.
You can choose to go monochrome with all blue or wear contrasting colours such as a blue denim shirt with black jeans/ white jeans/ grey, and khaki.
2. Style Denim Shirt With Shorts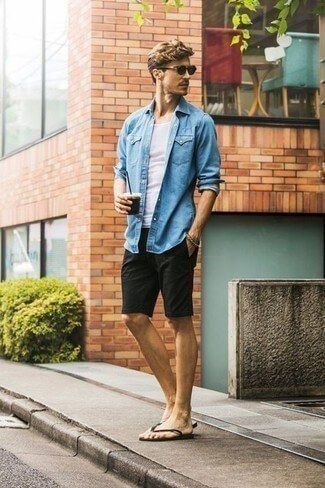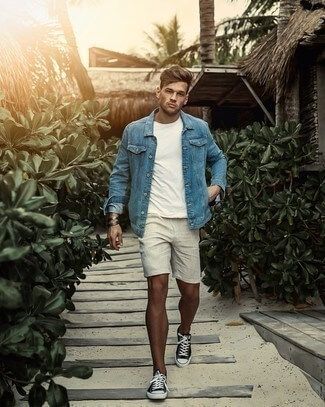 As the summer starts to creep in, denim shirts and shorts should be your top outfit pick. This is your opportunity to experiment with colours and wear your denim shirt available in different shades of blue with different colourful shorts. Also suitable for a work-from-home scenario, denim shirts paired with shorts are fashionable and look smart. To add a little flavour to your outfit, put on accessories like aviators and bracelets. Another great way to style a denim shirt for men!
3. Style Denim Shirt And Blazer/suit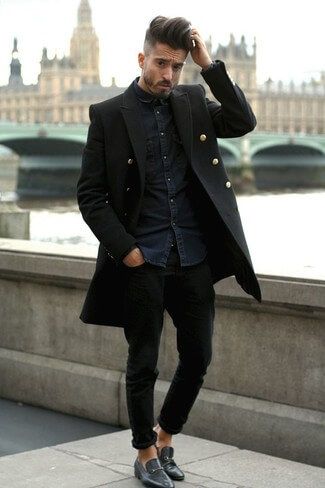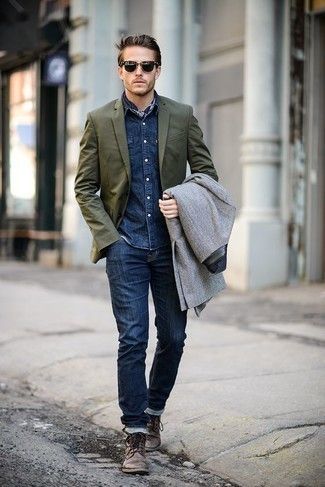 Denim shirt as a corporate attire? At first, the idea might seem like a big NO! but trust us, this combination will help you take your fashion game a notch higher. The 9-5 schedule gets the best of us, keeping us constantly busy chasing deadlines. So we say do it with style. Wear your suit and style it with a denim shirt (men) inside, pair it with a nice tie and be the classiest man in the room. Keep it simple and elegant.
4. Style Denim With Leather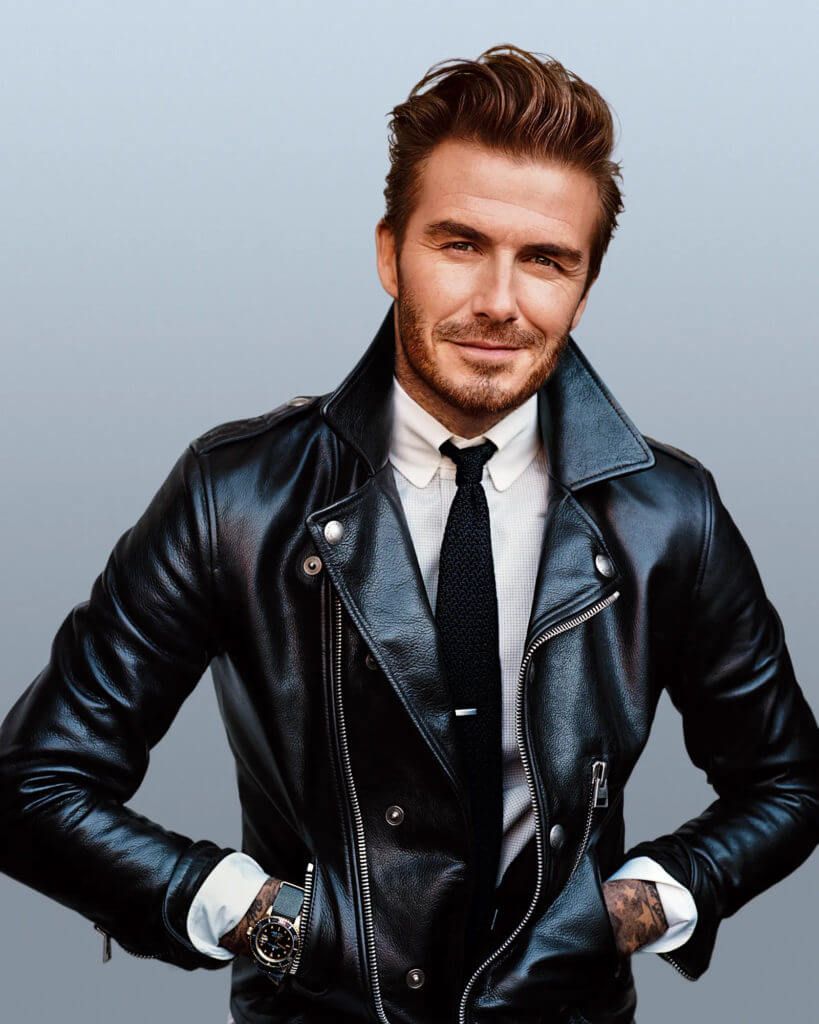 Don't feel like putting too much effort to dress up but also want to look exceptional? Put on your leather jacket. Versatile, leather jacket is completely compatible with a denim shirt and a must-try winter combination. Wearing a leather jacket on top of your denim shirt gives a casual yet dapper look. One can never go wrong with a leather jacket.
You can style a leather jacket with anything and everything from double denim to chinos and denim shirts. If you feel like playing around, add accessories like belts and chains to your jeans. However, if you choose to keep it formal, skip accessories altogether.
5. Denim Shirt And Sweater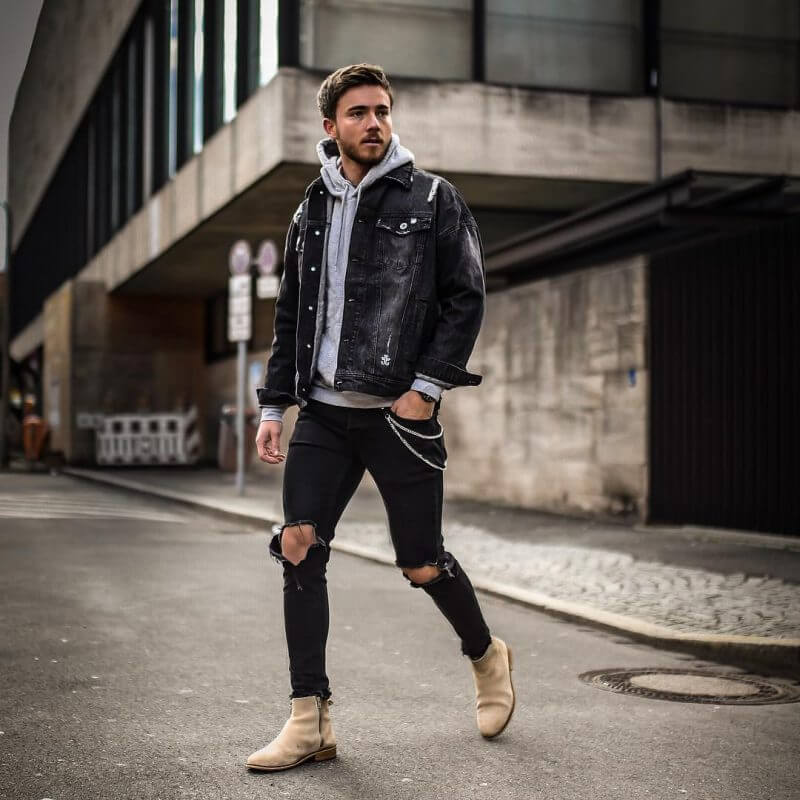 Keep the cold away by adding a little style to your ensemble with a denim shirt (men) and a sweater. If done correctly, the pair can do wonders and make you stand out amongst all. Show off your denim shirt with an open sweater or simply do not tuck in your shirt and let the collar show off.
Conclusion
The flexibility of the denim shirt makes it wearable for any season and in a variety of styles. Michael Kampe once rightly said, "A denim shirt screams, in a very subtle way, authenticity, it breathes the personality of its wearer". Originated as long as 100 years ago, denim remains timeless and continues to be one of the most sought-after pieces of clothing.
Comment below and let us know which one of the styles mentioned above you are definitely going to try.
---